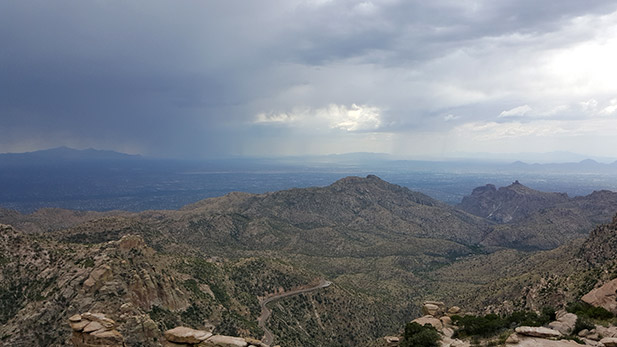 A monsoon storm forms over East Tucson.

AZPM Staff
By Sara Hammond, Arizona Science Desk
The 2015 monsoon season is off to a slow start in parts of Southeastern Arizona, but meteorologists expect rain-filled clouds to start building soon.
Metropolitan Tucson's rainfall total is well below what's normally expected, said Glenn Lader, a meteorologist with the National Weather Service's Tucson office.
The official gauge at Tucson International Airport has measured just 0.8 of an inch of rain since the official start of the summer rainy season June 15. Some parts of the city have seen just 0.1 of an inch.
Sierra Vista has received more than 5 inches of rain, and Nogales has seen 3 inches, Lader said.
"Part of that is just the fickleness of the monsoon," he said.
Lader attributes the dearth of rain to the wind patterns over Southeastern Arizona. The winds have blown west to east this season– a normal monsoon flow is the opposite.
"We have had enough moisture to generate storms, but the pattern that we tend to count on is where storms develop in the eastern portions of the state and move out into the lower elevations," Lader said.
Rain tallies may pick up in September if tropical storms form in the eastern Pacific Ocean and push moisture into the Sonoran Desert, Lader said.
And our built-up, paved-over central city core is not forcing those few storms out into the periphery.
The "urban heat island" effect does keep nighttime temperatures from falling as they have done in the past 50 to 100 years, but it doesn't change the factors that go into creating monsoon storms, Lader said.
It's been mostly luck that the edges of the built-up area of Tucson have had several good downpours this year while the center of the city remains parched.
"We've only had a few events so far, and when that happens, one part of town often gets it and others don't," Lader said.
Residents who count on the summer rains to nourish their plants are resorting to creative methods of keeping flora from fading.
Midtown resident Martha Retallick collects water from the shower as it's heating up and saves the gray water from dishwashing to supplement the municipal water she draws for her garden.
"My poor little garden is wilting. I have to water it a lot more than I would prefer to have to water,"said Retallick, whose rain gauge has measured a slight 0.1 of an inch of monsoon rain.
"I do want to produce food from it so I've got to keep it going somehow."
The Arizona Science Desk is a collaboration of public broadcasting entities in the state, including Arizona Public Media.