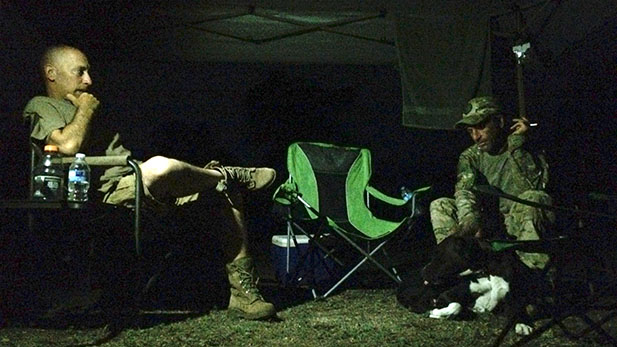 Arizona Border Recon members Pete Lanteri and Tim Foley.

Fernanda Echavarri, AZPM
Listen
An armed group of military veterans has taken it upon itself to try and reduce drug trafficking at the U.S.–Mexico border in the Arizona desert.
Arizona Border Recon calls itself an "intelligence gathering organization" with a mission to provide that intelligence to the public "in matters relations to the trafficking activities originating from the international border in Arizona" on its website.
Anti-illegal immigration militia groups such as this and the Minutemen are not new and their presence at the border has dropped compared to a decade ago, according to the U.S. Border Patrol.
The group's leader, Tim Foley, said the movement is not dead because he and other former military men "took an oath to protect this country and feel that we are doing that by helping stop the cartel."
"You wouldn't believe the names I've been called, I've been called a racist, an assassin," Foley said.
Foley said between the Arizona Border Recon Facebook page and its members' reach it could have thousands of like-minded veterans ready to "protect the border" if he made the call.
Members of the group set up in remote areas of the mountains near Arivaca and Sasabe where they can spend days alone with a sleeping bag, food, water and a weapon. When they spot drug smuggling or migrants crossing they stop them and call the Border Patrol, Foley said.
"We appreciate the concern that some of these groups have for the problems that we are confronting along the border but them being out there and interacting with people that are coming across the border interacting with narcotics traffickers and things of that nature are extremely dangerous," Peter Bidegain, a U.S. Border Patrol spokesman said. "We don't want anyone to lose their life in a situation they're not trained for."
Border Patrol agents have been instructed to treat all interactions with militia groups the same way they treat interactions with ranchers in the area, concerned citizens and humanitarian groups, he said, and the agency does not encourage people to do what these groups are doing.
Bidegain could not say how often Border Patrol receives calls from members of the Arizona Border Recon.
When Foley started the group in 2011 he originally set out to stop illegal migration of men and women coming to the U.S. mostly for work or to reunite with family. About a year into the project he said it switched its focus against drug cartels from Mexico.
"They're the ones over there destroying that country and the product they're bringing this way is destroying this country," Foley, a recovering drug addict said.
Arizona Border Recon is funded by online donations and the funds of its members, he said.