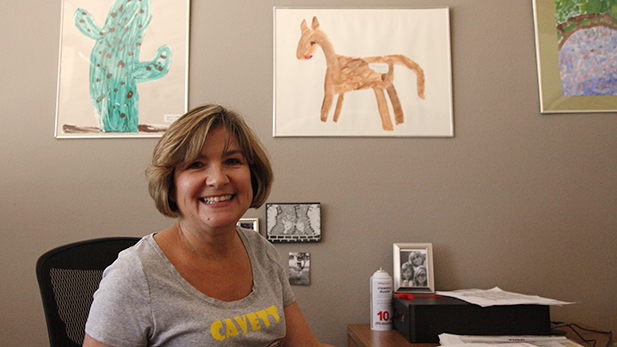 "I just want kids to be happy and be learners and I want to ensure that they all get the good stuff," said Principal Elsa Corral-Aguirre of the students at Cavett Elementary School.

Mariana Dale, AZPM
Listen:
Principal Elsa Corral-Aguirre wants every detail of Cavett Elementary to be perfect for the arrival of students on Thursday.
"It starts at our custodian level," Corral-Aguirre said. "I said 'I want these floors to be shiny for our kids.'"
Cavett and the rest of the schools in the Tucson Unified School District start Thursday. About 49,000 students attend school in the district. Many will find their school received new additions in the summer.
The district spent $3.7 million on new technology, mostly laptop computers, for elementary schools and those targeted in the desegregation plan. Every elementary and K-8 school received pallets of books grouped by reading levels that teachers can pull for their lessons.
"You can't say to teachers, we need to do an amazing job and then provide them with no resources," said TUSD Superintendent H.T. Sanchez.
The district faced a nearly $6 million budget shortfall for the upcoming year. Most cuts came from district administration, not curriculum and instruction budgets.

"It's extremely important we put the dollars where they matter most and that is in the classroom with our students," Sanchez said.

"A child can come in with very limited knowledge and they'll end a school year reading a whole book to you and just their sense of accomplishment is what's fulfilling to me."
Other changes in the district aren't tied to the budget, but are intended to change the district's culture.
Every teacher will have time in the week devoted to working with their colleagues to evaluate students, review assessment scores and plan lessons.
At Cavett Elementary, Corral-Aguirre said the professional development room is "where the magic happens."
Less than a week from the start of school, teachers work in mixed grade-level groups on their lesson plans for the first eight weeks of school.
For first year teachers including Sarah Varelas, forming relationships with teachers at her school has helped her first-day-of-school nerves.
"They're very supportive," Varelas said. "They're always there. Their doors are always open."
Corral-Aguirre reviews lesson plans, standards and new tests for the upcoming school year, too.
She also has a less formal way of assessing her school– hanging out in the cafeteria.
"I'm cleaning tables and I'm also asking kids what'd you learn this morning," Corral-Aguirre said. "'You can't say lunch, but you need to tell me what was the best part of your morning."
"I am a little nervous because I am a first year teacher, but I'm excited as well."