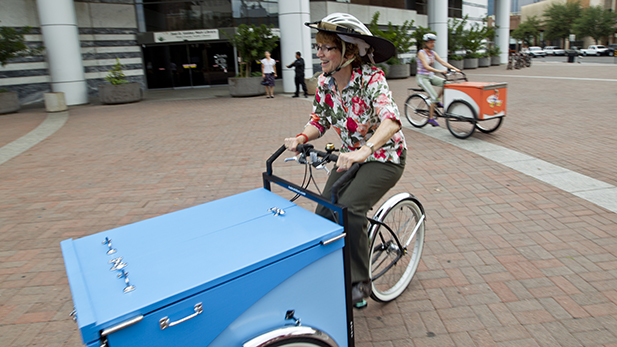 Mary Sanchez, manager at the Eckstrom-Columbus Library pedals a book bike. One of the two new book bikes acquired this summer will be located at the Eckstrom-Columbus Library.

Courtesy Pima County Public Library
Listen:
What has three wheels, can carry 200 pounds of cargo and has given out thousands of free books?
A book bike.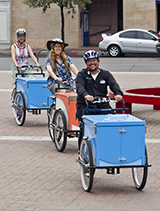 Library employees Monica Bujak, Karen Greene and Brandon Milligan take the full fleet of book bikes out for a spin. (PHOTO: Courtesy Pima County Public Library)
"The grand purpose of the book bike is to go to places where people are and give them books to read," said Karen Greene, the Pima County Library's librarian on the move. Greene started the book bike program in 2012 with one bike.
"My dream is really world domination by book bike, but I will start in Tucson," Greene said.
This summer, a donation allowed the library to add two more bikes to the fleet. Since the program started, it has delivered delivered almost 35,000 free books to Tucsonans.
Greene said people always ask, "how many can I take?" She responds, "As many as you can read."
Each of the bikes can hold 200 pounds of books, and the library needs help from the community to fill them. Children's books, cook books and books in Spanish are in high demand.
There are several places and ways to donate: