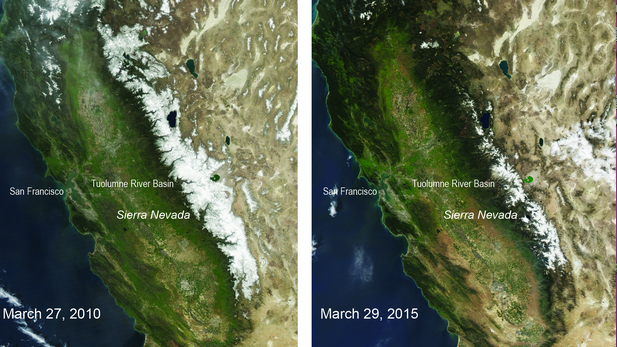 Five years' difference shown in satellite images of California's snowpack.

Courtesy of NASA/MODIS
Listen:
The 2015 snowpack in California's Sierra Nevada was the lowest in the past 500 years, University of Arizona climate researchers reported Monday.
The study at the UA Laboratory of Tree-Ring Research is the first to show how the snowpack compares with levels for the past five centuries. The team began its study right after the April 1 snowpack level announcement that resulted in California's mandatory water restrictions ordered by Gov. Jerry Brown.
"We were expecting it to be bad, but not that bad," said Soumaya Belmecheri, a postdoctoral research associate at the tree ring lab and the first author on the team's paper published online in the journal Nature Climate Change.
Belmecheri worked on a team led by Valerie Trouet, an associate professor at the lab, to examine previously published tree-ring data that reflects annual winter precipitation from 1405 to 2005, and annual snowpack measurements since the 1930s.
Data from a reconstruction of winter temperatures in southern and central California that spanned nearly 500 years also contributed to the report.
The researchers noted that the "unprecedented" low level of the snowpack was coupled with higher than normal winter temperatures in the Sierra in January, February and March. This year, the snowpack was at 5 percent of normal.
"As we look into the future with higher temperatures projected for California to occur more frequently, the chance of the two – high temperatures and low precipitation – co-occurring will increase," Trouet said.
Co-researcher Eugene Wahl of the NOAA National Centers for Environmental Information in Boulder, Colo., concurred.
"The future may look like this," he said, noting that in addition to the snowpack at unprecedented low levels, California's drought is also unprecedented over a 1,000-year span.
California's current drought began in 2012.
Hydrologists use peak snowpack measurements to predict the amount of runoff that will occur in the summer. Belmecheri compared the snowpack to a reservoir that provides water during California's dry spring and summer months as the snow melts.
"Hopefully our study will put the severity of the current drought into perspective and will make people realize some management adaptations may be necessary in the future," Trouet said. "We are fitting a puzzle piece in the puzzle called the ongoing current California drought."