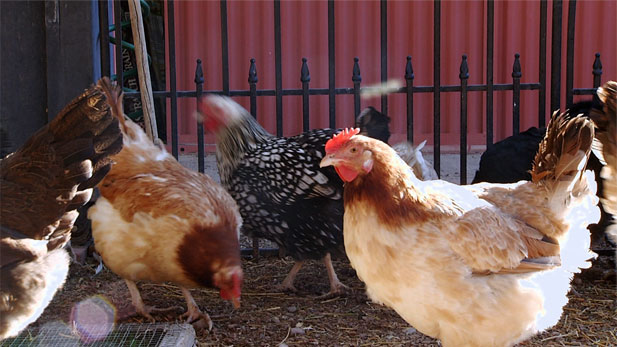 AZPM
Listen:
Tucson's Planning Commission voted Wednesday to recommend changes to city zoning so people can keep chickens and practice other aspects of urban farming in their yards.
Until now, many people with chicken coops or vegetable gardens in their backyards have been, technically, in violation of existing zoning codes.
The city has been largely lenient in enforcement, and the current proposal would officially expand the areas where residents could practice all aspects of urban agriculture.
Several dozen residents, most of them chicken owners, came in support of the measure, including Emily Palmer of Rita Ranch.
"I've had chickens in my backyard for many years and a couple of years ago I found out that my set up was not in compliance with the law," Palmer said. "I consider myself to be a law-abiding citizen, and I've been working to get them to move forward on this ever since so I can keep my chickens and be on the right side of the law."
Palmer and others broke out into applause after the commissioners voted to recommend the changes.

City officials have been discussing the zoning codes on urban agriculture since 2009.
The proposal will now go to the City Council for a final vote.