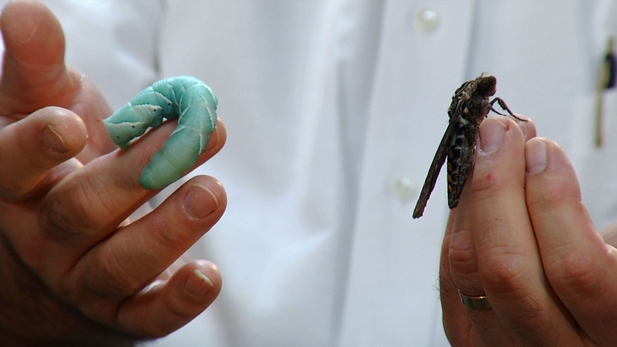 University of Arizona Regents Professor, John Hildebrand hold caterpillar and moth side by side, showing the transformation the insect undergoes.

AZPM
Listen:
By Julianne Stanford
The next time you see a roach in your kitchen, think twice before squishing it – at least that's what University of Arizona Entomologist Kathleen Prudic wants you to do.
"Roaches are fabulous," Prudic said. "When you try to squish one, how quickly they have to be able to respond to your movement and get out of the way, and they've got some really neat adaptations to be able to do that in sensing air movements and light and sound. They've inspired anti-missile technology and crash devices for vehicles."
You can learn about roaches and other apparently not-so-creepy-crawlies at the Fifth Annual Arizona Insect Festival held in the UA Student Union this Sunday from 11 a.m. to 4 p.m. The event has free admission and free parking in the Second Street garage.
The event is kid-friendly, with many hands-on activities such as an insect petting zoo and the chance for kids to create their own insect out of crafting materials such as construction paper and pipe cleaners.
Meanwhile, adults can learn about many things, ranging from the types of butterflies that float through the Tucson skies, how to get rid of unwanted pests in their homes and which kinds of bugs are edible.
"We're going to have opportunities for you to eat delicious insect recipes," said Prudic, who helped plan the event. "I'm sure there will be insect tacos, and mealworm cookies, and just kind of ideas how to incorporate insects as a cheap viable protein source in your diet."
Every year, thousands come to the festival and this year will be no exception. Prudic predicts more people than ever before will with swarm the festival.
Julianne Stanford is a journalism student and an intern for Arizona Public Media.