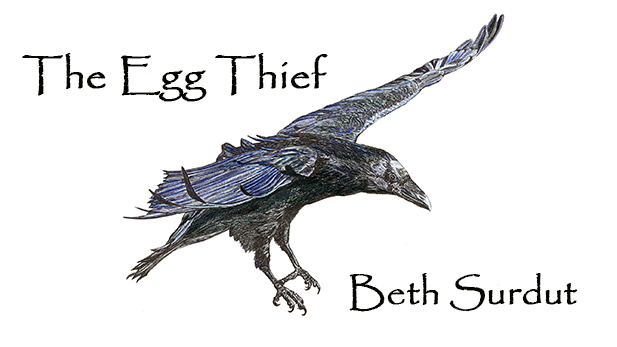 Listen:
The Art of Paying Attention: Raven and the Flying Doritos®
© Beth Surdut 2015
"If you talk to the animals, they will talk with you and you will know each other." - Chief Dan George
I know ravens love junk food and they can even recognize a fast food logo, but I'm pickier than those clever corvids—Common or Chihuahuan—who I think of as equal opportunity eaters. Even knowing that eating almost anything helps sustain their big brains, I just can't bring myself to feed them patties of processed animal parts. Usually, I don't put out any food, but one day I placed two uncooked whole chicken eggs -- fresh range, of course -- on the lava rock watering hole in the garden.
The next morning, just as I got out of the shower, I heard gleeful quorks and gurgles through the window. Two huge ravens were sharing the eggs I'd put out for them. Feathers glowing like abalone in the cool sunlight, they nibbled and chatted. After that, the one I called the Egg Thief swooped in at least once a day to check on the chicken egg situation.
Even in winds so brisk the house howled like La Llorona mourning her children, he took one perfect egg in his beak and brought it over to his mate, who hopped impatiently in the desert. Ravens mate for life, so this guy was taken, but soon the single ones showed up, sometimes solo, other times in rowdy groups.
The eggs were the main prize for the ravens, but from what I can see, some of my neighbors are fueled by the snack food industry. Fierce winds slammed open the lid of their trash can and tossed the contents as joyously as fans throwing underwear at rock stars. Plastic bags, caught in the prickly embrace of cholla, wave like surrender flags.
A large empty Doritos® bag, bright as a macaw, flutters its colors as the wind bounces it repeatedly against the bottom of the wall outside my studio. As I bend over to retrieve the bag, I hear big wings pushing the air—whish-whish-whish- and then a soft "clock-clock-clock-clock-clock" as Raven flies close over my head.
I stand and wave the bag. Raven circles, feet tucked up neatly.
"Clock-clock-clock," he vocalizes. Not cluck— it sounds more like a gentle tick-tock, slightly seductive, longing, as if saying, "Oh, I want that; please give it to me."
The wind revs its engines and drives me into the studio.
Still clutching the bag, I touch the tip of my tongue to the roof of my mouth and let it stick for a nanosecond, then repeat.

"Clock-clock-clock," I practice as I sit down at my work table to draw Raven.
"Clock-clock-clock," I say to myself, ready for our next conversation.
But not today. Alarm calls from smaller songbirds tell me that Raven is trying to steal babies or eggs from a nest. The screeches escalate as more birds join in to mob Raven, who decides this is too much work and takes off.
We'll chat another time, Raven and I, especially if I put out more chicken eggs or a bag of chips.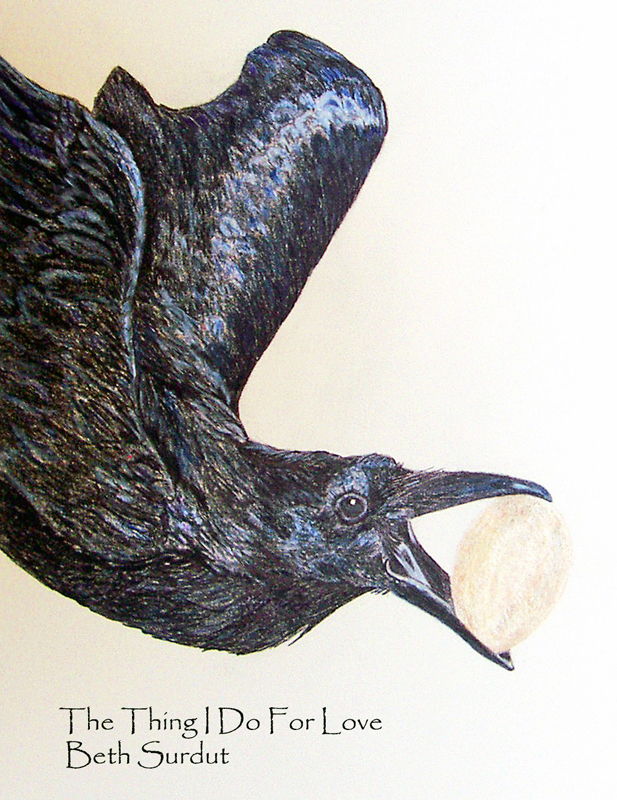 Find more of Surdut's drawings - and true stories about spirited critters - at listeningtoraven.com and surdutblogspot.com.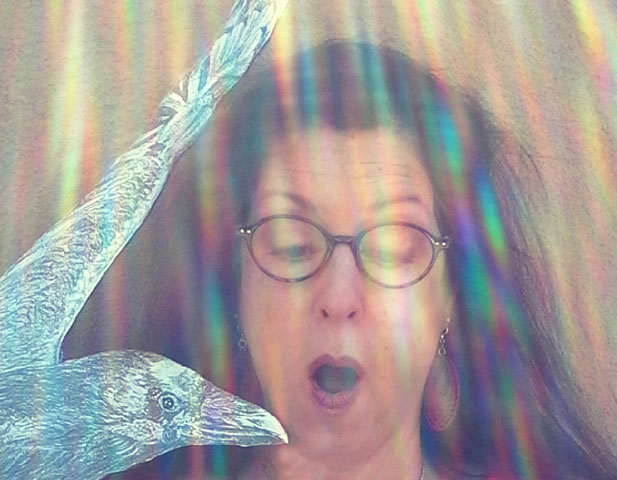 Beth Surdut's illustrated work Listening to Raven won the 2013 Tucson Festival of Books Literary Award for Non-Fiction. Elements of her raven clan have appeared in Orion Magazine, flown across the digitally looped Art Billboard Project in Albany, New York and roosted at the New York State Museum in an exhibition of international scientific illustrators.
"The Raven" segment of Encyclopedia of Santa Fe and Northern New Mexico by Mark Cross is illustrated with The Reason Why along with her explanation of Raven calling her to the Southwest to draw and collect first person stories of interactions with this clever corvid and iconic spirit guide.