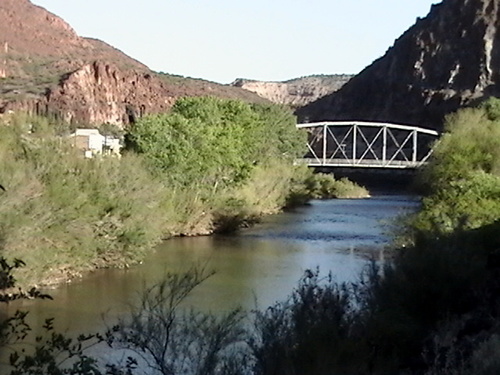 In the American Southwest and throughout Mexico – no Halloween would be complete without the story of La Llorona – the Weeping Woman.

While there are many versions of this Mexican folklore story, This one takes place in my hometown of Clifton, Ariz.
The San Francisco river runs through the heart of Clifton. I was born in this small mining community. As a kid, the River was the source of immeasurable entertainment – picnics, family outings, barbecues, inner tubing, but the River was also the source of a deeply disturbing and frightful story about La Llorona, the Weeping Woman.

When I was 8 years old my Nina Rosa told me the story of a beautiful woman who believed her beauty could captivate any man.
She married a rich rancher and they had two children. For a few years they were happy. But as she began to age – her husband grew tired of her and preferred the company of even younger women. His actions drove her insane with grief and pain.

One night – in a blind rage, she drowned her two small children. She then killed herself.

When approaching the gates of heaven, she was denied entry– until she could find her children. And so this once beautiful woman was cursed to spend eternity looking for her children at night - along the San Francisco River.
Anna Ochoa O'Leary is also from Clifton – we have been friends since kindergarten. Today Anna is the head of the Mexican American Studies Department at the University of Arizona. She vouches for my Llorona story –
Listen to a conversation with O'Leary:
The one other thing I remember about La Llorona is that my parents used to tell me – si no te portes bien – te va agarar La Llorona – If you don't behave yourself – the Llorana will take you away.

What a horrible thing to say to a child. But it worked – just ask my sons.