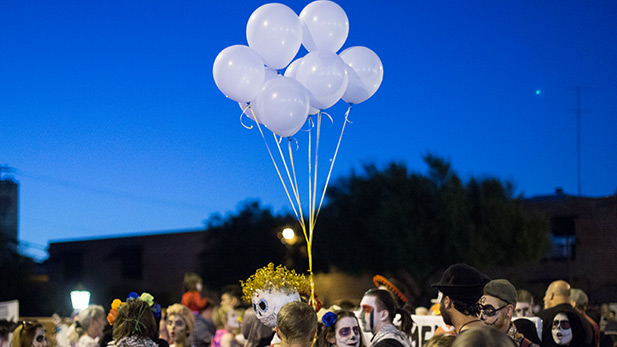 Sandra Westdhal, AZPM
Listen:
Tens of thousands of marchers, their faces painted as sugar skulls, will take part in Tucson's annual All Souls Procession this Sunday. Among them will be Mexican mariachis, Scottish bagpipe players, Japanese drummers - and members of a Buddhist organization, marching together as a group for the first time.
The Empty Mountain Sangha will be doing a walking mediation, but they won't be silent; they will make the procession as they chant in Korean.
"It's a mantra chant that honors Gwanse-eum, and her name literally means the hearer of the world's cries," said Frank Jude Boccio."My Korean Dharma name is Poep Sa, which means teacher."
Boccio started the meditation group in his living room more than seven years ago. As their numbers grew, they began practicing in the Tucson Yoga Studios and last year the Empty Mountain Sangha moved into its own space on 4th Avenue.
"Sangha is a Sanskrit word that means community," Boccio said.
"There's a diversity of beliefs [in the sangha]. The only thing we share is the value of wanting to be more awake in our lives, more intimate with our experience of life," said Boccio.
They use meditation as a means of becoming more present.
"I think a lot of people have the idea that meditation is not thinking, that the objective is to stop your mind from thinking, and fortunately that's not the case because we really can't do that," said member Nancy Hand.
The point, Boccio said, is to notice when the mind has wandered.
"It's an opportunity to bring [the focus] back to the present moment, again and again and again and again," said Hand.
Boccio and other members of the sangha want to covey a message at All Souls.
"I will be marching to carry this idea of impermanence," said Hand.
"Many of the times we're so lost in our thoughts that we're missing what's really happening."
The fleeting nature of everything in life is a main tenant of Buddhism. The group will carry signs that bear this message and the religion's five remembrances:
All beings are of the nature to age, there's no way to avoid aging.
All beings are of the nature to experience illness, there's no way to avoid experiencing illness.
All beings are of the nature to die, there's no way to avoid death.
All that we love, everything that we hold dear is of the nature to change, there's no way to avoid becoming separated from them.
Our actions are the ground on which we stand, there's no way to avoid the consequences of our actions
Members of the group say the signs are not meant to be macabre, but to motivate people to value and appreciate every moment of this life.
"Of all the millions and millions of years that this planet has existed, and other planets and other stars...and the millions and millions of years that they will exist after our death, we have the great good fortune to be here alive right now...and that's incredible," said Hand.
The Empty Mountain Sangha's meditation practices are open to the public. They meet Sundays at 5:30 p.m. and Wednesdays at 6:30 p.m. The Sangha Hall is located at 148 S. 4th Ave.