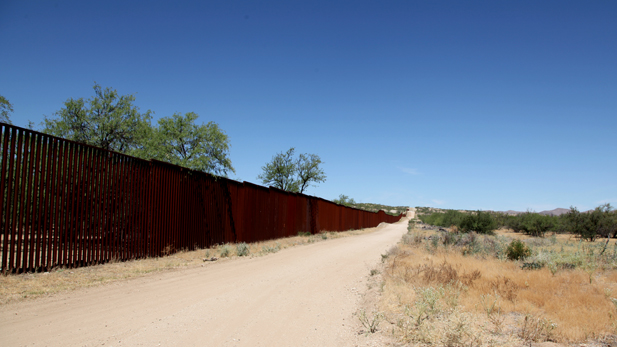 The international border fence in the Arizona desert.

Fernanda Echavarri, AZPM
Gov. Doug Ducey's plan to launch a Border Drug Strike Force is running into opposition from one law enforcement official along the border.

Listen to the story:
Ducey said Monday that he has local law enforcement support for his Border Drug Strike Force. That was news to Santa Cruz County Sheriff Tony Estrada, whose county has the state's largest Mexican port of entry, outside of Nogales.
"You can't just come in here and do your thing," Estrada said.

Estrada said before spending millions on a new DPS strike force, the state should make sure there are enough state troopers to patrol Interstate 19.
He said that after 2 a.m., the last DPS shift ends in his county and doesn't pick up again until daybreak, giving drug cartels going north a green light on I-19. The same goes for the criminal element heading south.
"There's money going south, stolen vehicles going south, there's ammunition, there's weapons, there's fugitives," Estrada said. "There's so many things going south and going into Mexico and there's nobody on the highway."
Estrada said his message to the governor and DPS is simple: Ask him what he needs; don't tell him.