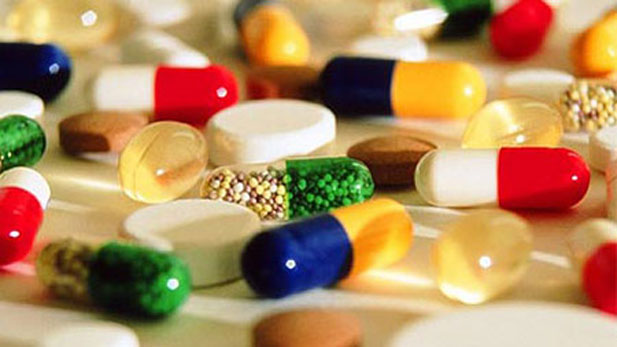 Drugs
Listen:
The fight to stop heroin smuggling from Mexico often goes without mention of the demand for illicit drugs in the country.
The demand for drugs is clear in Arizona, which is has the nation's 10th highest drug overdose rate.

"It is probably the largest epidemic to affect the United States in the last 100 years, in my estimation," said Lenn Ditmanson, who is the medical director for Opiate Addiction Services at COPE Community Services in Tucson.
Ditmanson's clinic is the largest in the state and treats more than 800 people for prescription opiate addiction.
"At 40,000 to 60,000 deaths a year - if you remember, during the six years of the Vietnam War, we lost a total of 62,000 service members - so we're losing effectively to opiate overdose the same numbers we saw during the entire Vietnam War," he said.
Statewide, at least one Arizonan is estimated to die every day from an overdose. Arizona Department of Health Services reports 372 people died from prescription opiate deaths in 2014.
The availability of opioids through legal methods is one of the largest contributing factors to the addiction epidemic. Arizona has the fifth highest opioid prescription rate in the country.
"I've seen some numbers even state that we have enough pills prescribed in the state of Arizona to medicate every man, woman and child around the clock for two weeks straight," said Tomi St. Mars, the chief of the Office of Injury Prevention at the DHS.

A decade ago, the leading cause of injury-related deaths in the state was automobile crashes. By 2007, drug overdoses took over as number one, and have remained so ever since.
Prescription opioids such as OxyContin account for one-third of those fatalities, according to the state health department.
These drugs are commonly prescribed for treating injuries and chronic pain. They replace pain with a sense of well-being and euphoria. Prolonged use can lead to addiction and symptoms of withdrawal when the medication runs out.
"Opioid withdrawal is a very complicated and really horrible state of being in pain with all sorts of symptoms: nausea, vomiting, diarrhea, gooseflesh, anxiety, and really, at some point, a point of desperation that you just can't stand it anymore and you have to do something to alleviate the withdrawal symptom," Ditmanson said. "One way or another people will try to get more opioid medication either through the medical system or illicitly off of the street."
Prescription opioids have become harder to come by on the streets, which causes people to seek out an alternative, St. Mars said.

"We have begun to clamp down on the number of available prescription opiates such as OxyContin, Hydrocodin, and Vicodin, and by doing that clamp down, if someone was addicted to those drugs, what we're now seeing is that because there is less of the prescription that's out there, the initial street cost has increased, so its slowly moving some individuals from a prescription opiate into using heroin," she said.
And as a result, heroin is more and more accessible.
"Black tar heroin, which is the form of heroin we see here in Arizona, is much, much cheaper and much more widely available than the opioid prescription heroin," Ditmanson said.
There is a clear link between heroin use and prescription opioid abuse, according to Ditmanson.
"Studies currently suggest four out of five people who become addicted to heroin started by using prescription opiates," he said.

The American Society of Addiction Medicine estimates 75 percent of opioid abusers will eventually transition to using heroin because it's cheaper.
Numbers from the Phoenix field office of the Drug Enforcement Administration suggest heroin flowing into the state has filled the demand for opioids.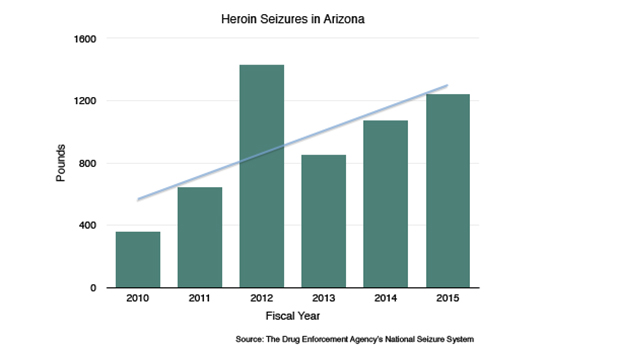 In 2010, about 350 pounds were seized in the state. This year, the DEA has recovered more than 1,200 pounds.
State health officials hope to curb the demand for drugs in Arizona by cutting into the supply line.