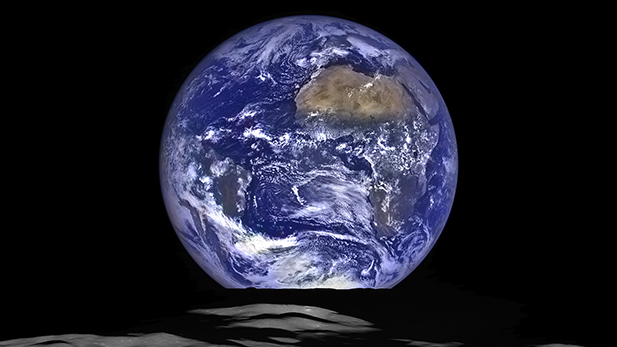 This image was composed from a series of images taken Oct. 12, 2015, when Lunar Reconnaissance Orbiter was about 83 miles (134 kilometers) above the moon's far side crater Compton.

NASA/Goddard/Arizona State University
By Sara Hammond, Arizona Science Desk Listen:
It's been 38 years since a full moon appeared on Christmas. While it has no particular scientific significance, it can offer a focus for reflection.
The moon's phase will peak at 4:11 on Christmas morning when the Earth's satellite is exactly opposite the Sun.
For professional sky watcher Adam Block of the University of Arizona's Mount Lemmon SkyCenter, the event offers a chance to reflect on the moon.
"Having the full moon in the sky on a holiday is kind of like an ornament to see above the horizon. It only adds to the specialness of the day. I think that's what people are attracted by when they see the full moon," Block said.
"What I look at when I see a full moon on a particular date, I think about the cycles of nature and how there are patterns that you can see in nature and the appreciation of those patterns – having a full moon every month but not having it on the same day every month. It shifts because of the moon's motion around the Earth through time," he said.
The next Christmas full moon will occur in 2034.