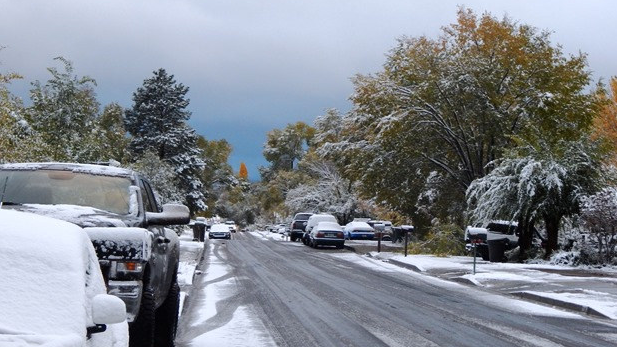 Melissa Sevigny, Arizona Science Desk
By Melissa Sevigny, Arizona Science Desk
Listen:
Winter weather in Northern Arizona means icy roads and road crews use a de-icer to keep them clear after the plows move through.
But in Flagstaff, road crews found that the de-icer they used was harming ponderosa pine trees along roadways.
A salt compound called Ice Slicer went into use in 2007, and within a few years, Flagstaff wildland fire manager Paul Summerfelt said he noticed needles turning brown on ponderosa pines along the streets.

"It was fairly evident that we were seeing a correlation between the use of that chemical and the resulting damage to the trees," Summerfelt said, leading to another potential problem: " ... hazard trees. They were going to fall on the road eventually, and we needed to address that issue and remove those."
So it was back to an old-fashioned solution – volcanic cinders, which officials said are more environmentally friendly than salt. But it's a trade-off. Cinders take more labor and don't work as well on high-speed roads, they said.
That means more caution on the part of motorists, said Andy Bertelsen, director of public works for Coconino County, which also made the switch back to cinders.
"There's nothing that's going to save us from winter driving conditions other than ourselves," he said.