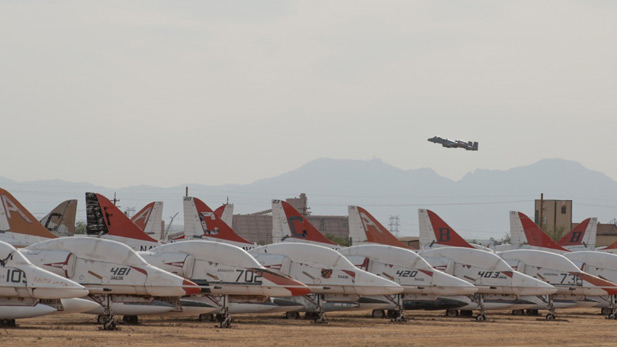 Davis-Monthan Air Force Base's 'Boneyard.'

Will Seberger
The Arizona Center for Law in the Public Interest has sued the Air Force to force an environmental study of the expanded training flights now flown from Davis-Monthan Air Force Base in Tucson.
The center claims, in a news release about the lawsuit, that the Air Force expanded its winter training program without a study to determine how it would affect the surrounding area, including neighborhoods in the flight pattern.
The winter training program is known as Operation Snowbird, and attracts military flight crews from throughout the country to train in Tucson. The Arizona Center for Law in the Public Interest said the program expanded from 519 flights in 2013 to 2,326 this winter.
The Air Force conducted an environmental assessment that showed there would be no significant impact from the expansion, but the center said that assessment fails to comply with federal requirements.
Davis-Monthan officials said they could not comment on pending litigation, but said in a statement that the Air Force complied with the law during the environmental assessment.
A statement from the air base also said the Operation Snowbird training is a minimal number of the flights flown from Davis-Monthan, and there is a cap on the number of training flights.
"It should be noted that even if we reached that cap, all TFT (training) flights combined would represent less than 6 percent of the total DM annual airfield operation numbers," base officials said in a statement.