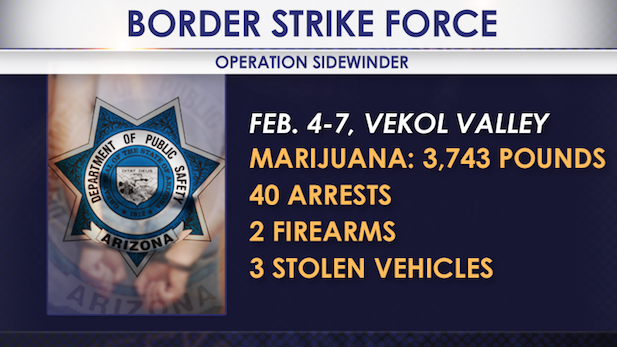 The Department of Public Safety released these details on a strike force operation last week in Pinal County.

Robert Jaime, AZPM
Listen:
Gov. Doug Ducey's plan to fund his Border Drug Strike Force may be running into opposition in the state Legislature.
The strike force, which has begun operations with existing resources, is meant to bolster the Department of Public Safety to reduce drug and human smuggling in Arizona.
Ducey's budget proposal included $31.5 million for the strike force. That has drawn resistance from some Republicans in the Senate, Sen. Steve Farley, D-Tucson, said.
"I have not seen a bill yet, through the Senate anyway, that talks about establishing that border strike force so there is not a lot of enthusiasm on the part of proactively pushing for it," Farley said Thursday.
Senate President Andy Biggs, who is known to be cautious of new programs with large price tags, was unavailable for comment, but a spokesman responded to an email inquiry about the funding.

"The Border Strike Task Force is part of the governor's budget proposal, so this would fall in the category of the president preferring not to discuss budget negotiations through the media," Biggs' spokesman, Mike Philipsen, wrote in an email.
A staff member in the office of Sen. John Kavanagh, R-Fountain Hills, said Kavanagh was confident the strike force will be funded.
Ducey spokesman Daniel Scarpinato said the strike force did not come up in a budget meeting this week among Ducey, Biggs and House Speaker David Gowan.
House Democrats have not taken an official position against the strike force.

Rep. Eric Meyer, the House Democratic leader, said he would rather see the money invested in schools or given to existing law enforcement.
Watch Arizona Week Friday evening at 8:30 on PBS 6 to hear more about the strike force proposal from DPS Director Frank Milstead and from three Southern Arizona sheriffs.