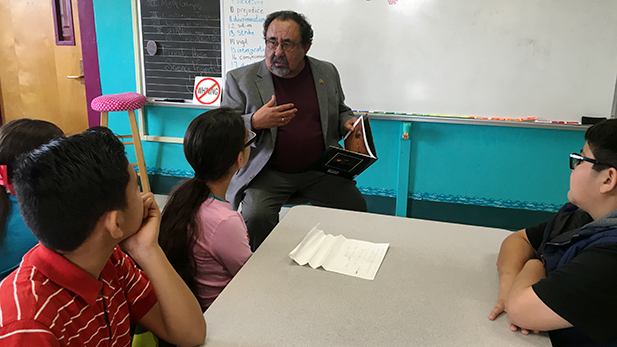 Rep. Raúl Grijalva reads to 5th grade students at Davis Elementary on February 18, 2016.

Mariana Dale, AZPM
Listen:
U.S. Rep. Raúl Grijalva plans to re-introduce two bills next week to support education in English and Spanish.
The FLUEnT (Families Learning and Understanding English Together) Act would expand family literacy programs with a focus on people with limited English proficiency.
The PRIDE (Providing Resources to Improve Dual Language Education Act) Act would expand dual-language programs for preschool through 5th grade in low-income communities.
Grijalva, a Democrat from Tucson, made the announcement during a visit to Davis Bilingual Magnet School, an elementary he helped establish when he was on the Tucson Unified School District governing board.
One requirement of the bills is that sponsored programs would need proven records of success in literacy and achievement in the classroom.
TUSD parent Marisol Flores-Aquirre said as a result of bilingual education programs, her children switch easily between English and Spanish and understand both cultures.
"When you can see yourself reflected in your community and in your curriculum, I think you are seeing your students are achieving," Flores-Aquirre said.
Grijalva said he anticipates pushback from those who do not see the value in learning a second language or spending millions of dollars on the programs.

"The end of each is fully competent English speakers coming out whether it's a parent or the student," Grijalva said.
Grijlava has introduced similar legislation in past sessions as early as 2005.