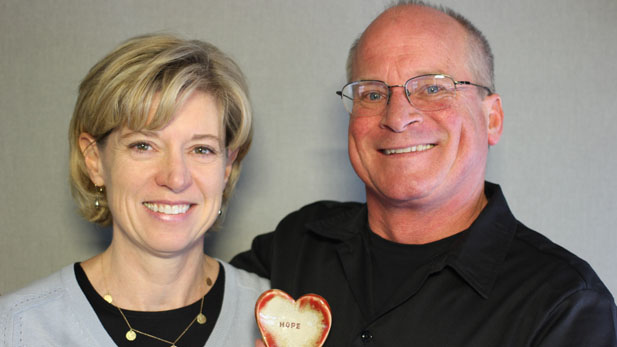 Dr. Sue Taylor and "Passing On" documentary producer Tom Kleespie
Featured on the February 19, 2016 edition of ARIZONA SPOTLIGHT with host Mark McLemore:
The latest Arizona Public Media documentary, Passing On, deals with end of life issues and includes stories from the bedsides of dying people. Dr. Sue Taylor helped make this possible. Taylor visited the StoryCorps mobile booth in Tucson to talk with the documentary's producer Tom Kleespie about what it's like to provide comfort to the dying and their families, including one death that remains a part of her daily life…

Tucson Unified School District maintains more than 13,000 musical instruments, and is one of the few districts in the state with an in-house repair shop. Mariana Dale finds out how the shop's small staff manages to keep even 50-year old instruments sounding like new...

Do you think of Tucson as the "ugly brother" of Phoenix -- or is it the other way around? The radio story project Dímelo features walkers on Tumamoc Hill talking about stereotypes in the community, and how they affect us...

And, author and wildlife illustrator Beth Surdut shares some rules of etiquette for encounters with hummingbirds in The Art of Paying Attention...
Listen: