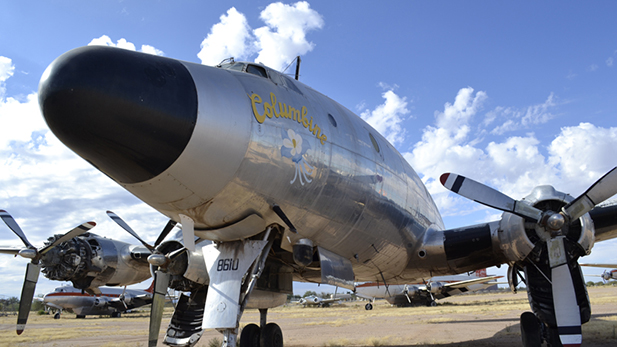 Town of Marana
Listen:
Southern Arizona is home to some well-know retired aircraft.
The list is going to shrink by one in the coming weeks. The Columbine II, the first plane to ever have the call sign Air Force One, is almost ready to leave Marana Municipal Airport.
The Lockheed Constellation was a part of the presidential fleet during the Eisenhower administration, and it almost found a second life as a crop duster after it was sold at auction in the 1970s.
"It just sat there for a while," said Monique Meza, special events coordinator at the town of Marana. "Someone else doing some research on the aircraft and on Air Force One in general happen to find that it was there, and they were the ones that recognized that it was the original Air Force One."
The most recent round of restoration work to the propeller plane's four engines is almost complete. Its current owner will then have it flown to Virginia, where the interior will be restored.
Once work is completed, the plane will tour air shows around the U.S.
The town of Marana will hold a special event to send the plane off before it leaves. The event will be closed to the public.