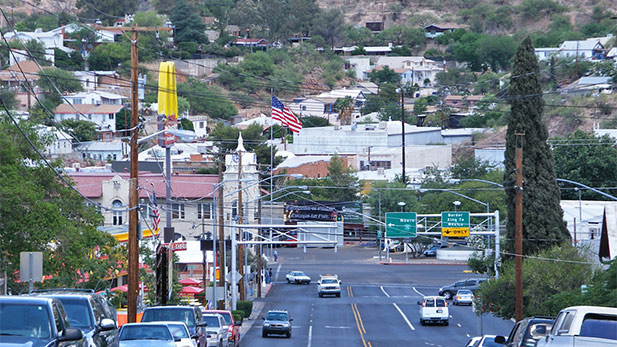 Crawford Street in Nogales.

AZPM Staff
Listen:
Crime in Nogales, Ariz., dropped in the fiscal year that ended last June, tied to a decline in undocumented immigration, Nogales police reported Thursday.
Statistics showed a 33 percent drop in burglaries and a 44 percent decline in aggravated assaults. Nogales reported no homicides in the last two years.
The lower crime rates for Arizona's largest border town coincided with a 30 percent drop in the undocumented migrant population.
Are the two related? Nogales Assistant Police Chief Roy Bermudez said most likely they are.
"Obviously, if illegal entry is down, crime is down," Bermudez said, adding that a strategic change in policing also contributed.
"Basically, (it's) policing with a purpose," Bermudez said, "going out there and being more visible and more approachable."
The result, Bermudez said, is that Nogales is one of the safest border towns in the country.