Featured on the March 11th, 2016 edition of ARIZONA SPOTLIGHT with host Mark McLemore:
Arizona Spotlight helps you plan your 2016 Tucson Festival Books experience with a series of interviews with some of the Festival's stand-out guest authors, including:
Linda Valdez is a columnist for The Arizona Republic, and she often writes about immigration and border security politics. In her new memoir, she shares the story of her marriage to a man from rural Mexico who crossed the border illegally to be with her. Valdez talked about the book, and the experience, with Andrea Kelly...

U. S. Army veteran Jimmy Blackmon chronicled his experiences fighting in Afghanistan. He talked with Tony Perkins about telling the stories of men and women on the front line of the global war on terror, in his book about commanding heroes with the 101st Airborne Division...

Scottsdale resident Diana Gabaldon's bestselling historical fiction series_Outlander_ began in 1991. Julianne Stanford talks with Gabaldon about the novels' unlikely origin, and global success...

Canadian science journalist Dan Falk talks with Sara Hammond about his book The Science of Shakespeare, a look at the ways that Shakespeare's plays were influenced by the state of the scientific world more than 400 years ago...

And, Arizona Spotlight visits 4th Avenue to ask Tucsonans to try their hand at reciting some of Shakespeare's most famous lines...
Listen:
ARIZONA SPOTLIGHT airs every Friday at 8:30 am and 6:00 pm, and every Saturday at 5:00 pm, on NPR 89.1 FM / 1550 AM.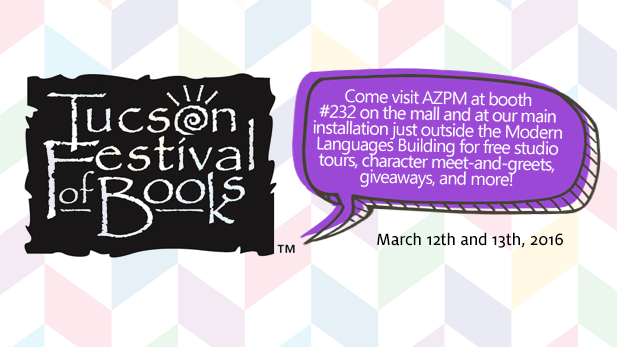 Make sure to visit us at this year's Tucson Festival of Books.