Listen:
Threats of more terrorist attacks are sparking debate on security vulnerabilities on the U.S.-Mexico border.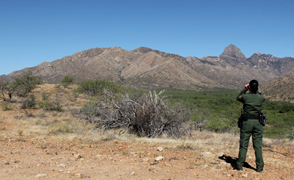 AZPM
Brandon Judd, the head of the National Border Patrol Council, a union that represents 16,000 Border Patrol agents, testified last week at a congressional hearing.
He said that an email from an agent in Arizona cited a 10-mile remote stretch of the border where smugglers cut the fence and drove two trucks through. Cameras caught the activity, but agents weren't close enough to investigate.
"The scariest part is that we don't know what was in those vehicles," Judd said.
No terrorist activities in the U.S. have been traced specifically to people who crossed into the country illegally from Mexico.
Judd said, however, the number of illegal border crossings through Mexico from Pakistan is expected to more than triple this year.
"Those numbers should alarm everyone and we are seeing a similar trend from other key countries like Bangladesh, Albania and Brazil," Judd said.
Customs and Border Protection is more than 1,000 agents short of what it is authorized to have.