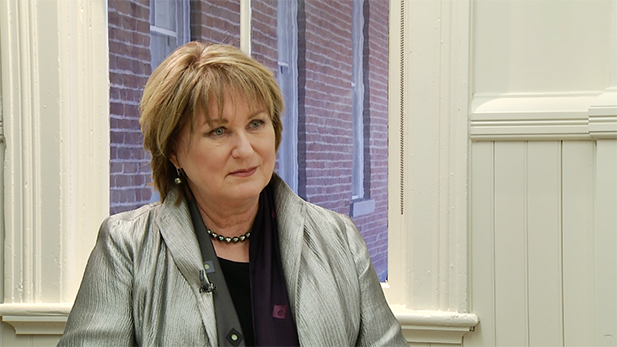 UA President Ann Weaver Hart in March 9, 2015 interview.

AZPM
LISTEN:
Twenty-two state lawmakers have called on University of Arizona President Ann Weaver Hart to resign over her decision to join the board of the DeVry Education Group.
DeVry is a for-profit company that owns private colleges and universities around the U.S. and abroad. The Federal Trade Commission is investigating whether the organization misled prospective students. DeVry runs a number of colleges in Arizona, including Carrington College in Tucson.
A timeline of the upheaval surrounding Hart's involvement with the DeVry
In January, the FTC filed suit against the company, accusing it of misleading prospective students about their chances of getting jobs and how much they would earn with a DeVry degree.
A few weeks later, Hart was appointed to the DeVry board, a position that pays $70,000 a year and $100,000 in stock. Her compensation package at the UA totals more than $665,000.
In March, when state Rep. Macario Saldate wrote a guest column in the Arizona Daily Star calling on Hart to resign from the DeVry board. Saldate said he spoke privately with Hart before the column was published.
"Her position was primarily that a lot of other people do this," he said. "They're on boards, etc. etc. She actually gave me examples of professors that did that. But professors are not, I don't think, in the same situation as a president of an institution."

In his letter, Saldate wrote: "Instead of dividing her attention, President Hart should be focused on expanding opportunities for students to attend the University of Arizona."
"And I can tell you, I have never received the number of e-mails and the number of calls that I have received regarding any issue as I have this," he said.
Saldate said Hart did not respond to his letter.
He said Tuesday that continues to oppose her affiliation with the company, but his position on what she should do has changed.
"At the time that I wrote the letter, at that time, I honestly felt that it would be sufficient for her to resign from the DeVry board," he said. "That is no longer where I stand. I stand for her to step down from the presidency of the University of Arizona."
He is not alone. Among the 21 lawmakers who joined Saldate calling for Hart's resignation in a letter to the editor of the Star published Tuesday was Rep. Bruce Wheeler. Wheeler said Hart's decision to join the board of a for-profit institution that's being investigated by the FTC is harmful.
"It does not help the brand of the University of Arizona, which is a top-notch university in the United States," Wheeler said. "It takes away her attention from the university at a time that universities in the state of Arizona are undergoing enormous assault from the Legislature in terms of funding and support. It's a distraction.
"It's a horrible, unconscionable, unethical decision, and she needs now to step down as president of the University of Arizona, and we are going to pursue this."
Hart sent a written statement in response to AZPM's request for an interview.
"I recognize and understand that men and women of good will can agree to disagree while continuing to contribute in many different endeavors. I am using personal time for these activities and have fully complied with all ABOR (Arizona Board of Regents) policies. Just as faculty consult, university administrators serve on outside boards. This is true in Arizona, as well.

"I plan to maintain my board appointment because I understand the challenges faced by nontraditional students, having been one myself, and view my board membership as a way to contribute to positive outcomes and quality for students in higher education who will never have the opportunity to attend the University of Arizona.

"DeVry students are usually 25 years of age or older. Often, they have dropped out or simply were not able to attend school earlier in life. They are working to improve themselves through higher education. I think that's valuable to all of us.

"The DeVry Group asked me to be on the board for my knowledge and expertise, not my affiliation with the UA. I would venture that my position would not mean anything to a DeVry student. The UA is a world leader in research and student instruction and this appointment will not affect that."
Faculty responds: appointment is "unfortunate distraction"
Chair of the Faculty Lynn Nadel, a professor of psychology, said Tuesday the Faculty Senate has not taken an official position on Hart's board membership and is not likely to do so.
"I've heard, not through the Senate, but just through email from maybe 15 or 20 faculty," Nadel said. "Some agree with what the president did, most disagree. But nobody questions that she had the right to do it. It's not a question of whether it was right, technically, it's a question of whether it was wise."
He said the issue is creating a distraction on campus.
"I think it's an unfortunate distraction from very important things that we are trying to do at the university around diversity, inclusion, quality," he said. "There are very important things going on, and to have to deal with this issue is sort of unfortunate and I'm assuming it will eventually go away. Which isn't to say I agree with the decision, but that isn't the point."
Ernie Gibble, DeVry's senior director of global communications, sent a written statement in response to AZPM's request for comment about Hart's service on the DeVry board:
"Her board membership is entirely compatible with her role as an educator. Dr. Hart sees herself in our students; she took a nontraditional path toward gaining her education, raising her children as she went back to school. She appreciates the challenges our students face juggling work and family with their studies. That's an invaluable perspective for a board member and will help us in meeting our students' needs. The role of a true educator is to share knowledge for the betterment of all. Dr. Hart embodies that educational philosophy and we are honored to have her on our board."
Hart was appointed at the same time as University of California Davis Chancellor Linda Katehi. Katehi resigned from the DeVry board within a week of her appointment due to opposition at her university and in the state.
The Sacramento Bee reported that Kahehi apologized to California lawmakers earlier this week, calling the decision to join the board a lapse of judgment that "will not happen again."