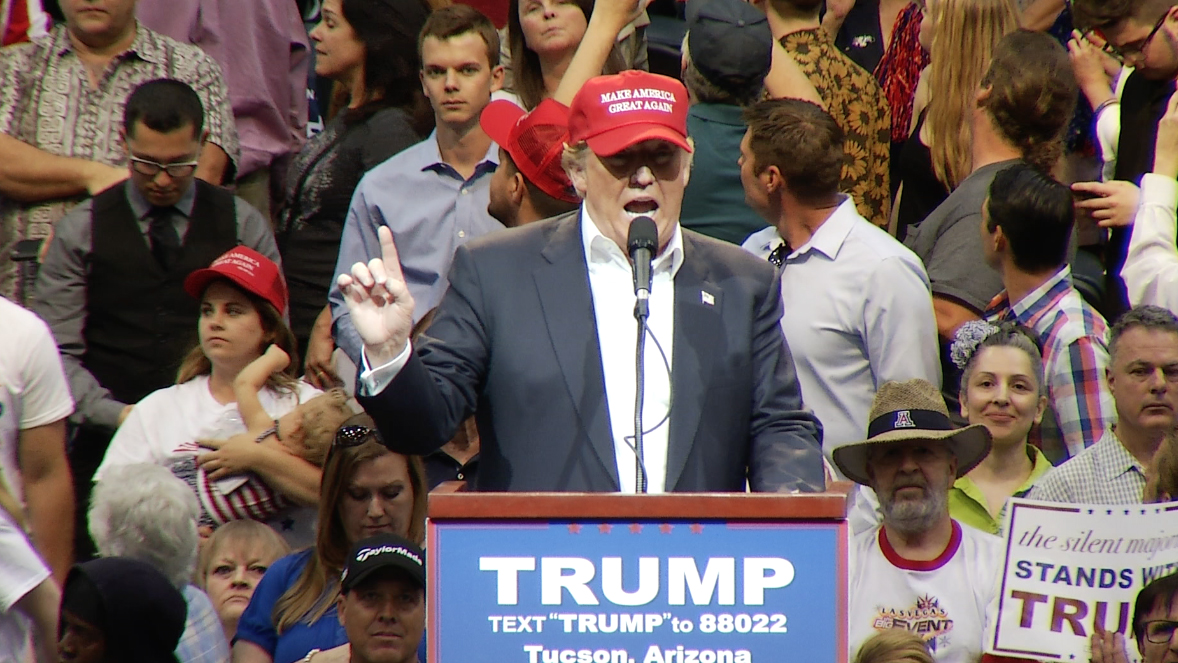 Republican Donald Trump campaigns in Tucson. March 19, 2016

Nate Huffman, AZPM
Listen:
Republican Presidential candidate Donald Trump released a detailed plan to make Mexico pay for a wall at the international border, and it includes changes for individual money transfers, immigration policies and trade tariffs.
The plan starts at the individual level. First, Trump said in a memo to The Washington Post, he would cut off remittances people in the U.S. without legal documentation make to people in Mexico. Trump said Mexico's economy relies on money sent home from family or friends in the U.S., and therefore the Mexico government would be willing to pay for a wall to get the remittances flowing again.
But if that doesn't work, his plan is to increase trade tariffs for Mexico's exports.
That could hurt American companies more than Mexico's government, said Vera Pavlakovich-Kochi, a University of Arizona Senior Regional Scientist and Associate Professor of Geography and Regional Development. She said 50 percent of the imports from Mexico are from American companies that own or operate production facilities in Mexico.
"Thinking that you can close the border and cut the trade, you are primarily going to destroy many American companies that have their facilities in Mexico and which helps them be competitive in global markets and in the domestic market," said Pavlakovich-Kochi, who researches border economics.
Another element of Trump's plan is to increase visa fees for Mexicans who cross into the U.S.
That, too, could affect Arizona's economy, she said.
"It is extremely important that people from Sonora and other parts of Mexico can come as visitors. One of our studies years ago came up with estimates of $2 billion spent annually in Arizona's economy," by Mexico's citizens, she said.