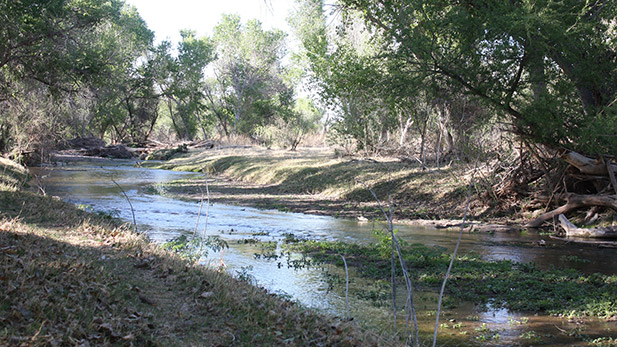 The Santa Cruz River.

Border 2020 Commission
Listen:
Sonora and Arizona governments have stepped up efforts to protect the delicate environmental balance of the border region. One area of mutual concern is the Santa Cruz river that runs in and out of both Mexico and the U.S.
The Arizona Sonora border region consists of the area ten miles north and south of the 389­-mile border Arizona shares with the Mexican state of Sonora.
The natural resources of air, water, plants and animals span both sides of the border. One of the most essential is water.
The Nogales Wash runs through Nogales, Sonora where it picks up contaminants, including raw sewage, and in to Arizona.

In the past five years Arizona has advised Sonora in ways to significantly reduce raw sewage flowing into the Santa Cruz.
On the U.S. side, in nearby Rio Rico, a water treatment plant cleans the water before it is released into Arizona's side of the Santa Cruz.
"So we have continued to work very cooperatively with Sonora and Nogales to try to minimize the contaminant load from that in coming from that surface water that is then going into the treatment water system in Arizona," said Amanda Stone, who oversees the Arizona Office of Border and Environmental Protection.
The population on the Mexican side has grown to almost a quarter of a million people. Stone said because the Mexicans are doing their part to cut back on raw sewage entering the Santa Cruz River, the Arizona side has been able to protect a critical water resource for Southern Arizona.
"It is a very very vital source of surface water for the Santa Cruz River," Stone said. "That ecosystem is thriving at this point."
Luis Salazar is Stone's Sonoran counterpart.

"There is very good people working in Arizona and Sonora in terms of environmental issues," Salazar said. "The work of the teams is going to be crucial in this relationship that we will have in the future."
Projects that protect the border environment of both countries can be costly. The U.S. and Mexico share the cost.
One source of funding was created in 2004 when the the North American Development Bank was launched. The Development Bank certifies and funds environmental infrastructure projects in border communities.
Both countries have contributed almost $30 million to the fund.
In the past ten years, in Sonora, almost 55,000 homes got first-time access to safe drinking water and almost a half a million homes along the border obtained first-time access to wastewater treatment services.
The result?
The reduction of waterborne disease on both sides of the border by more than 60 percent.
Amanda Stone said that confirms working together is essential.
"There simply is no choice in the matter," Stone said. "Environmental contamination does not recognize international and political borders."