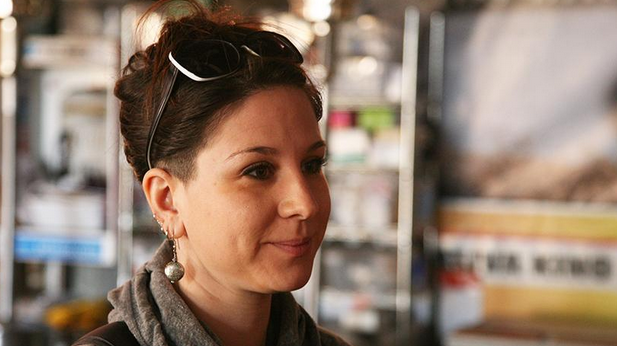 Marta Bernardini, a social worker on the Italian island of Lampedusa, the first stop for many migrants headed to Europe. Bernardini is nearing the end of a four-month visit working with migrants on the U.S.-Mexican border.

Stina Sieg, Fronteras Desk
By Stina Sieg, Fronteras Desk
Listen:
Marta Bernardini walked a few feet from the tall, rusted wall that separates Nogales, Ariz., from Nogales, Mexico. But she doesn't like to look at it.
"We want to separate the people and say we are better than you," she said, describing the feeling she believes the wall emits. "Because we are in the right side of the wall, the rich part of the wall, and you are in the poor part."
Bernardini was on the Mexican side that morning. She said she is accustomed to these kinds of divisions, just not man-made ones. Her home is Lampedusa, an Italian island where the border is the rough, churning ocean and where many of the more than 1 million people arriving in Europe by sea last year landed, the United Nations reported.
Bernardini is a social worker there for migrants on behalf of the Federation of Protestant Churches in Italy. Now, she's nearing the end of four months spent on the U.S. border as she learns how people are helping migrants here.
The immigration crises in Europe and the American Southwest have inspired not only her work and that of others, but also highly negative political and cultural reactions.
In the U.S., increased deportations and a groundswell of support for more fences and walls on the border have been among the results. In Europe, borders have been closed, and anti-immigrant backlash has been building.
There's no easy solution to the suffering of refugees and the economic plight of many undocumented immigrants. But on both continents, some people see it as their duty to help these needy populations. This is the story of two churches trying to work together half a world apart.
Walking along a busy road in Nogales, Sonora, Bernardini reached El Comedor, a tiny dining hall run by several churches. She waved hello to the women washing dishes before serving a free breakfast to a crowd still waiting outside. Before they came in, Bernardini set tables with plates and forks.
"This is a place for remember the dignity of the people," she said. "I think it's very close to our work on the island of Lampedusa. Because our presence on the dock, we try to humanize the dock and the border."
Bernardini works side by side with U.S. citizens helping migrants, among them Randy Mayer, pastor at Good Shepherd United Church of Christ in Sahuarita.
Mayer and his wife are hosting Bernardini. They were hosted by her last year on Lampedusa. It was important for him to travel to Italy, Mayer said, not just to learn but to stand in solidarity.
"People of faith and people of conscience need to really continue the good fight," he said.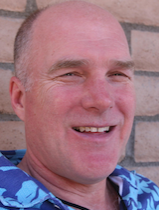 Randy Mayer, pastor of Good Shepherd United Church of Christ in Sahuarita. (PHOTO: Stina Sieg, Fronteras Desk)
Mayer started a humanitarian group years ago that still leaves water, food and clothing on desert trails, well-worn by crossing migrants. This good fight is also about exposing people like Bernardini to what Mayer calls the "militarization" of the U.S.-Mexican border.
"In this country in the last 10 years, we've tried security and walls and we really haven't tried any of the humanitarian solutions, as a government," he said.
There have been a record number of deportations, Mayer said, more checkpoints and more border agents.
"How can we help other countries not go down that path?" he asked.
Bernardini worries about that potential future constantly. Things are changing quickly in Italy, she said, and she feels increasing anti-immigrant sentiment from the government. So-called economic migrants are being deported, while only people deemed refugees are allowed to stay.
"This is not the way for a country, a civil country, to treat the people," she said. "Europe was built on the idea of defending the human rights of all the humanity."
Bernardini said she does see a glimmer of hope. Churches of various denominations in Italy have joined to bring groups of migrants with especially high need to the country legally through the Humanitarian Corridors Project. Last month, the first Syrian refugees arrived in Italy by air, instead of the dangerous sea journey. The program is planning to give visas to 1,000 people.
Bernardini knows that's not many.
"But it's a starting point," she said. "It's an example for other countries, for other realities, for other churches, for other organizations to say, 'We can do something in a different way.'"
At this point, that way can help a tiny percentage of the 100,000 migrants who have arrived in Europe this year. That's more than eight times the same time last year.
Fronteras Desk is a collaboration of public broadcasting entities in Arizona, California, Nevada, New Mexico and Texas, including Arizona Public Media.