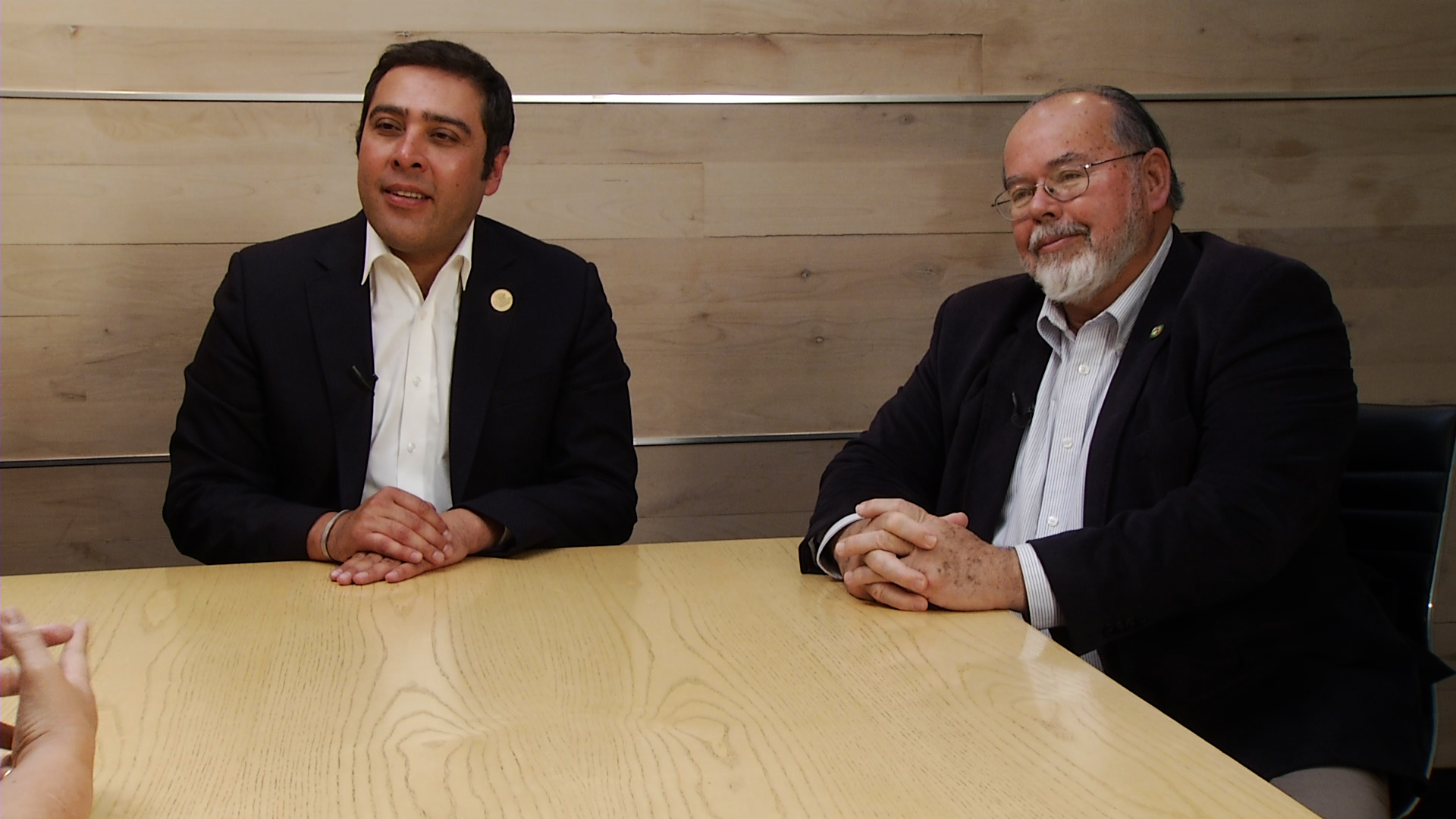 Nogales, Sonora, Mayor David Cuatemoc Galindo, left, and Nogales, Ariz., Mayor John Francis Doyle.

Steve Riggs, AZPM
Listen:
The mayors of Nogales, Ariz., and Nogales, Sonora, say two heads are better than one in solving problems in their twin cities. In today's in-depth report, Nancy Montoya talks with them about how they cooperate.
Almost 400,000 people live in the twin border cities - or as the people who live here call it AMBOS Nogales – which translates into "both of them".
About 50,000 are on the U.S. side in Santa Cruz County, the rest on the Mexican side.
John Francis Doyle, is the mayor of Nogales, Ariz., and David Cuatemoc Galindo is his counterpart in Nogales, Sonora.
Galindo looks like he just stepped off the cover of GQ Magazine. The 39-year-old is a seasoned politician with strong ties to the Mexican Federal government.  He represented Nogales in Mexico's lower house, the Chamber of Deputies in Mexico City.
And it was Galindo who led protests all over Mexico against Arizona's SB 1070 and encouraged Mexicans not shop or do business in Arizona a few years ago. But that was then. Today, Galindo said, Arizona Gov. Doug Ducey has opened the door to a better relationship with people cross the border.
"The relationship between the two Nogales is today much more united in terms of the political, migration," Galindo said. "We have a relationship on commercial themes. We have a cultural relationship. We have a family relationship. And any problems we have, we can find solutions to as a region."
On the U.S. side, Doyle, 20 years older than his counterpart and retired from the U.S. Army Air Missile Defense Systems, said both were born in their respective communities and want nothing to do with building more walls. Doyle said they are more about opening doors.     "That's what it's all about," he said. "Walls are a thing of the past. It was the United States that helped bring down the Berlin wall. Now we're going to get someone with a twisted idea to build a wall. There's something wrong with that train of thought."
The mayors work together to address the deadly problem of the drug cartels that impact both Nogaleses as one important example.
"We are the only border crossing where we have a special committee on security that gets together monthly," Galindo said. "We have police from both communities that meet on a regular basis to share information and strategies. We work together and exchange information."

Both said the latest statistics show that crime is down by 70 percent from this time two years ago on the Arizona side and by 40 percent on the Mexican side. Doyle added that during his regular early morning walks along the border he is more afraid of the area's wildlife than the crime rate.
"The only thing I worry about are the javelina pigs that are running loose," he said. "I always worry that they might be rabid and I might get attacked by one."

When it comes to communication - the mayors are more inclined to stay in touch daily with the social media tool SnapChat.   
"We have the SnapChat 'what's up,'" Galindo said. "Like the other day a car stopped at the border on the Mexican side and we thought it might have a bomb. We coordinated with the chat. We closed the border on both sides. We evacuated people."
No bomb was found.
The two have also coordinated emergency services.
"It's the only place along the border where our fire departments and emergency services can cross back and forth without paperwork or delays," Galindo said.
The mayors said they lead work on environmental concerns, commercial issues and other matters.
And there is one other important area they have pledge to continue working together - Little League baseball.
"They're mixed teams, binationally," Doyle said. "You've got people on that side playing on a team over here and people from here playing over there."
But, they said, it can get tricky figuring out whom to cheer for with family members playing on both sides.
Their shared goals are simple, work together to make the two Nogaleses safe and prosperous places to live.