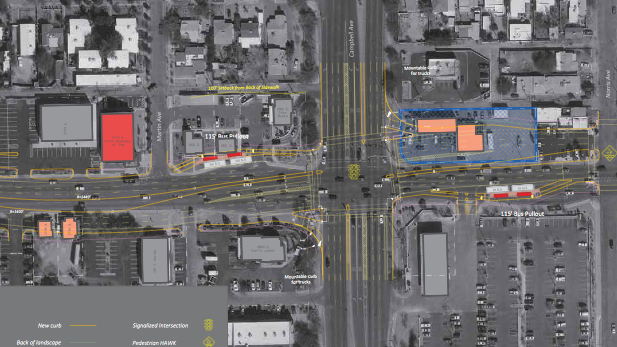 (PHOTO: Courtesy City of Tucson)
The Tucson City Council Tuesday will consider authorizing land purchases along East Broadway leading into downtown for a road widening project.
The controversial project has been proposed for nearly three decades, and $71.3 million for the widening was authorized 10 years ago in the Regional Transportation Authority's plan.
The council will take up a resolution allowing the city to negotiate with owners of more than 100 parcels or parts of parcels between Country Club Road and Euclid Avenue, about a two-mile stretch. The city already owns parts of more than two dozen parcels along the way.
The council's resolution would authorize negotiations for appraised value or condemnation and use of eminent domain to acquire the needed properties.
A meeting last month at which the final proposal was rolled out drew a big crowd and lengthy pro-con discussion.
Tuesday's meeting has been moved to the Pima County Board of Supervisors' chambers, next to City Hall, the accommodate what was expected to be another large audience. The meeting will begin at 5:30 p.m.