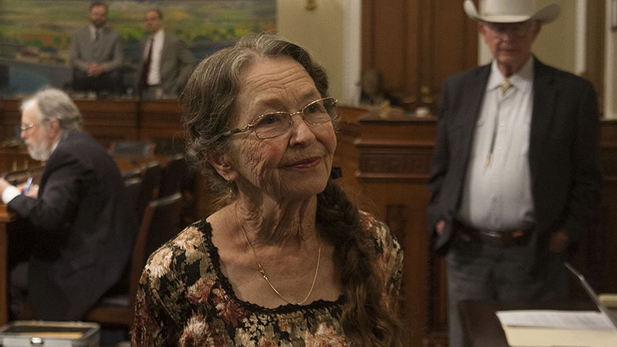 Sue Chilton

U.S. House Photograph
Listen:
A truck horn is all it takes to scatter the cows blocking a dirt road leading to Southern Arizona rancher Susan Chilton's driveway.
The Chilton ranch is 55 miles southwest of Tucson. The ranch's southern fence is the international boundary. Chilton said between her family ranch and Mexico ­ there is no wall, only a four­-strand barbed-wire fence­­ easily cut or crawled through in seconds.There is no Border Patrol immediately available to stop crossings.
For years, part of Customs and Border Patrol strategy has included staffing checkpoints miles from the border. While the agency is adamant about keeping those, there's movement to open some border areas now restricted by environmental considerations.
Southern Arizonans including longtime ranchers such as the Chiltons who live near the border are asking Congress for help.
Susan Chilton told her story last week to a House subcommittee trying to figure out how to better manage and protect federal and private lands along the border.
"That same little wire fence is all that separates us and our neighbors from armed Sinaloa drug cartel operatives who pass easily through that open door," Chilton said. "We and our ranch neighbors live in a no­-man's land essentially ceded to cartel control."
Chilton said she wants Border Patrol at the international boundary to protect her and her neighbors, but dirt roads leading to the area are barely passable.
"Border Patrol has no forward operating bases in this cartel route so the time delay for reporting to the actual border on our ranch or that of our neighbors from either Nogales or Tucson is between two and three hours," Chilton said.
Chilton said the border checkpoints miles from the border are a waste of manpower and equipment.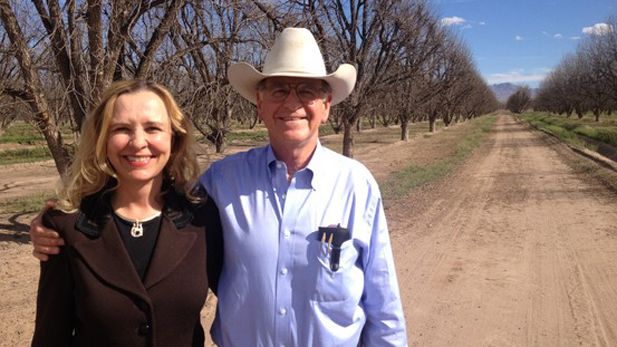 Walden Family
Nan Walden agrees. She is another Southern Arizona resident and testified to the committee for a different reason.
Walden's family owns the largest pecan farm in the world and has more than 250 employees. Three generations of Waldens work the farm near Amado halfway between Tucson and the border. She told the committee Border Patrol checkpoints are a nuisance to residents on the U.S. side and are not effective against the drug cartels.
"Those of us that live in areas surrounding the checkpoint have, for years, been exposed to the degradation of our public safety because of them,­­ high­-speed car chases through our neighborhoods, gunshot victims and the like," Walden said. "I have experienced a high­-speed chase by Border Patrol through my front driveway in Sahuarita, Arizona that I am sure would have killed an employee or me had I not been in my home office at the time."
Walden and Chilton said they want the Border Patrol to build "forward bases" in remote areas near the border.
"We have taken numerous high ranking Border Patrol officers to our property at the border, shown them our private land with water, good sites for portable facilities and corrals for their horse patrol and offered them the use of this land for a $1 lease per year so they can have a forward operating base at a known incursion point," Chilton said. "My husband has offered to lend them the dollar if they can't afford it."
Walden wants better training for agents. Many have little or no knowledge of the language, the people or the culture of the border.
One other aspect of the issue arose at the hearing ­ the Department of the Interior's insistence that allowing the Border Patrol unfettered access to certain areas along the border that are home to endangered plants and animals would cause irreparable damage. The Department has, at times, sided with environmentalists to keep patrols out. At last week's hearing, subcommittee chairman Louie Gohmert from Texas said people should come first.
"Because the federal government has chosen to favor environmental regulations over national security and human lives, this emergency continues," Gohmert said.
A partial solution may be in the works. In anticipation of the hearing, Department of Interior officials agreed to work with Border Patrol on loosening access.