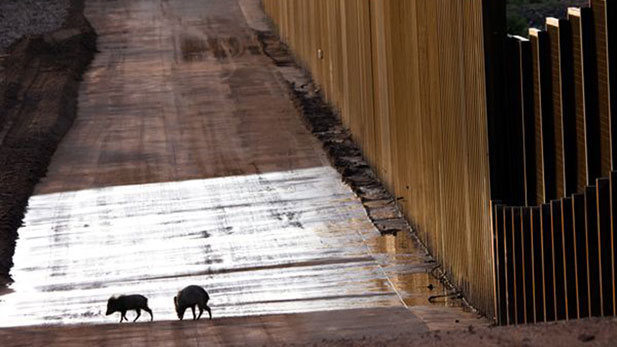 There is one idea which would spend billions of additional dollars for personnel, equipment and barriers along the border with Mexico, but this is raising red flags for environmentalists.

Courtesy Krista Schlyer, ILCP
Listen:
This month marks the 11th anniversary of the Bush Administration's Real ID Act, which gave the federal government permission to waive 37 environmental laws to build walls and roads along the U.S.-Mexico Border.
Environmentalists are remarking on the anniversary as candidates for president and congressional seats discuss border security this year.
The Real ID Act was the largest waiver of U.S. environmental laws in history. After 9-11, public outcry to secure the U.S.-Mexico border resulted in building almost 600 miles of higher and more sturdy fences. A
And today, presidential candidate Donald Trump frequently speaks of building a bigger wall along the border.
Dan Millis, the head of the Sierra Club's Borderlands Project said there is no need for another wall.
"I feel confused. Because the wall has been built. Look at our state of Arizona - 307 out of our approximately 375 of border miles already have some kind of large steel barrier," Millis said.
Environmentalists are studying the past 11 years since major border barriers have gone up. According to Millis, their research shows that massive barriers went up without regard to wildlife such as javalina and endangered Sonoran pronghorn antelopes.
"These animals are now blocked; they can't migrate – their habitat has been cut in two," Millis said.
The Sierra Club's report on the impact of the wall, "11 years of Lawlessness" is available on line. The group maintains it is not advocating for open border – rather for a more thoughtful and researched approach.
Last week, U.S. Rep. Martha McSally (R-Tucson) held a field hearing in Sahuarita about border security. Read about it here.