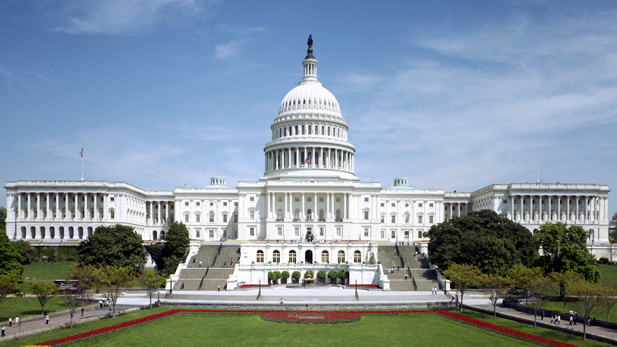 Architect of the Capitol
Arizona U.S. Sen. John McCain will face what he and others already have called the most difficult race of his three-decade-long political career, starting with the August primary election.
McCain, a Republican, and several challengers filed nominating petitions by Wednesday's 5 p.m. deadline.
McCain is seeking a sixth term in the Senate. To win it, he must fend off three primary election challengers before even getting to the general election ballot. In the primary, McCain faces Alex Meluskey, Clair Van Steenwyk and Kelli Ward.
Whoever wins the Republican primary will face Democratic U.S. Rep. Ann Kirkpatrick, who is giving up her seat in Congress to run for the Senate. She is unopposed in the primary.
Also on the U.S. Senate ballot is Libertarian Party candidate Frank Tamburri, a Phoenix naturopathic physician.
McCain, a former Navy pilot who was shot down over North Vietnam and imprisoned there for nearly five years, served two terms in the U.S. House from Arizona before winning his first term in the Senate in 1986. He now chairs the Senate Armed Services Committee.
Meluskey and Van Steenwyk are Phoenix radio talk show hosts. Ward is a Lake Havasu City physician who resigned her state Senate seat last year to challenge McCain.
Kirkpatrick is in her third term in the U.S. House, first serving from 2008 to 2010, when she lost to Republican Paul Gosar. Kirkpatrick regained her seat in 2012 and held it in 2014.
Southern Arizona U.S. House races
In the 1st Congressional District, seven Republicans and three Democrats are seeking their parties' nominations for the seat Kirkpatrick is vacating. The district runs from northern Pima County, up the eastern half of the state to the Utah line, including all or parts of 11 of Arizona's 15 counties.
Republicans in the race are Pinal County Sheriff Paul Babeu, state Sen. Carlyle Begaye, former Arizona secretary of state Ken Bennett, state House Speaker David Gowan, rancher Gary Kiehne, Shawn Redd and retired Air Force pilot Wendy Rogers.
Democrats in the 1st District are former state lawmaker Tom O'Halleran and Coolidge businessman Miguel Olivas.
Republican Martha McSally, a retired Air Force pilot, is seeking her second term from Arizona's 2nd Congressional District and will face Democrat Matt Heinz, a physician, or Victoria Steele, a former state representative. The district covers the eastern half of Pima County and all of Cochise County.
In the 3rd Congressional District, Democrat Raúl Grijalva seeks his eighth term and will face Republican Edna San Miguel, a Tucson teacher, in the general election. The district covers Tucson's west and south sides, western Pima County and parts of Yuma, Pinal and Maricopa counties.