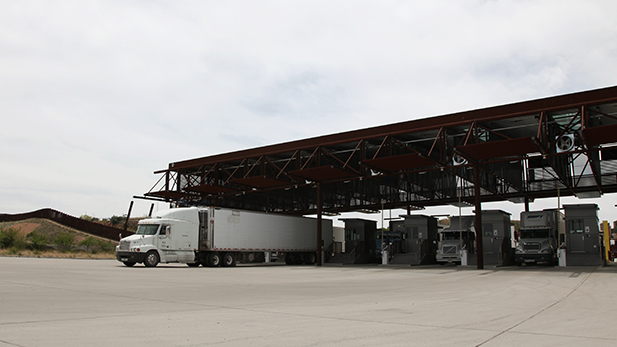 Commercial trucks coming through the Mariposa Port of Entry. (2015)

Fernanda Echavarri, AZPM
U.S. Rep. Ann Kirkpatrick visited the Mexican border this weekend as part of a campaign trip in Southern Arizona, calling the region vital to the state's economy and the idea of a bigger wall the antithesis of improved trade.
Kirkpatrick, a Democrat who is challenging Republican U.S. Sen. John McCain, made a trip to Nogales to meet with officials at the Mariposa Port of Entry. She also met with business leaders.

Kirkpatrick said trade with Mexico is worth billions of dollars to Arizona's economy so it must be kept vibrant.
"Thirty percent of the economy in Sierra Vista comes from Mexico, and certainly it is probably more than that here in Nogales," Kirkpatrick said. "But you know a wall doesn't make sense to them, comprehensive immigration reform that includes the Dream Act does. And that is where I will put my emphasis."
Kirkpatrick said it is clear that ports of entry need more support staff.