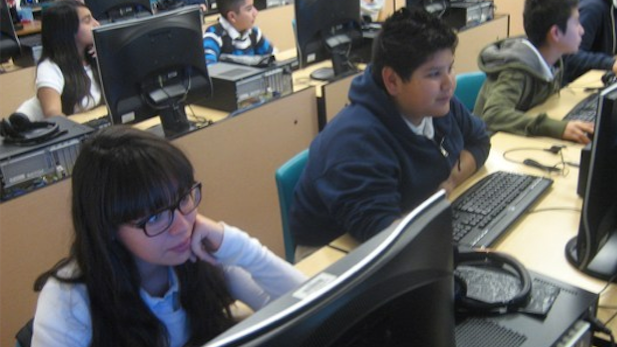 Students at Southwest Junior High School in San Luis, Ariz.

Gadsden Elementary School District
Arizona has one of the top 10 junior high schools in the world.
It's not in Tucson or Phoenix or any of their prosperous suburbs. It's in the small, mostly Mexican-American border town of San Luis near Yuma.
The top 10 designation comes from Johns Hopkins University's Center for Talented Youth. The center recognizes young people with great academic promise from around the world.
One of them is Genaro Rodriguez, 14. He said he and his classmates are not just thinking about themselves.
"The kids of my generation try really hard for a better future for their families," Genaro said.
The Johns Hopkins competition, an annual talent search, is open to 62 countries and 33­,000 students.
Homero Chavez, one of the founders of the school's gifted program, said that out of all the schools in those 62 countries, Southwest was selected among the top 10 last year and this year.
Chavez said the title has earned 225 Southwest students an intense three­-week summer session at colleges that include Princeton and Stanford. They will depart June 25.
Eleven years ago, Chavez and Jesus Arrizon started the gifted program with an emphasis on math and science. Both men were born in San Luis. One attended the University of Arizona, the other Arizona State University. After graduation, they returned home.

The two said they have worked to get parents, students and the community all on the same page for education.
Chavez said his students are not smarter than other students in the state or in the world; they just work harder.