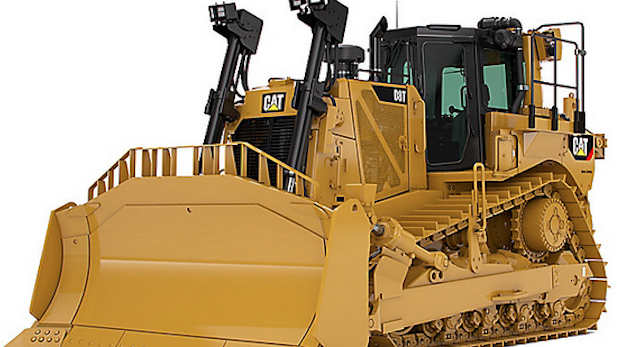 Caterpillar
By Bryn Bailer
One year ago, career and technical training in Arizona schools was on its death bed. Then came a legislative revival in the form of $29 million in restored funding.
Among beneficiaries are Tucson area students seeking job opportunities. One of them is Michael Bower, 17, of Amphitheater High School.
Bower knows one thing for sure: He wants to drive huge trucks for a living. Not simple 18-wheelers. He wants to pilot "haul trucks", the monsters that work heavy-duty construction and mining sites.
"All through my life, I thought it would be really fun to drive them," Bower said. "It looks really cool. They're really big machines, and who's not interested in the really huge machines?!"
Bower also can't wait for the new school year to begin because he will be part of a new, tuition-free heavy equipment operations program offered by Pima County's Joint Technical Education District, known as JTED.
JTED's new program starts in August. Students will learn all about the vehicles – from engines to hydraulic systems.
Driver training will take place at the University of Arizona Mining Laboratory in Sahuarita and at Caterpillar Inc.'s Tinaja Hills Demonstration & Learning Center in Green Valley.
Bower has already signed up for the two-year program and convinced his girlfriend and another friend to do so as well. He said it was not a hard sell.
"The people at Caterpillar did the job very good for me, because when we were out there they told us how much money you get for being the operator," Bower said.
Skilled heavy-equipment operators can earn more than $100,000 a year.
The heavy equipment operations program is especially important because construction is a rock-solid industry in Pima County, said Alan Storm, CEO of the county's JTED.
"God knows we need roads built, and shopping centers and homes and subdivisions and everything else," Storm said. "You can't do any of that without heavy equipment."
JTED is a public school district that provides career and technical education to area high school students. It educates all comers, from public schools, private, charter and home schooling and anyone under 22 years old working to earn a GED.
Participants, while continuing their formal educations, can earn additional certifications and advanced training and collect college credit in a variety of professions: firefighting, law enforcement, cosmetology, accounting and the construction trades.
"The beauty of JTED programs is that it sparks a student's interest with hands-on activities in a field that they really love to explore," JTED spokesman Greg D'Anna said. "Therefore, they do better in school.
The new program dovetails with recent news of Caterpillar Inc., the world-famous construction equipment manufacturer – choosing Pima County as the site of its new Surface Mining and Technology Division. The move is expected to boost the area economy by $600 million and bring in 600 high-paying jobs in the next five years.
Steve Gravley, director of the University of Arizona San Xavier Mining Lab and a third-generation miner, said the company with the marigold-yellow equipment is ubiquitous.
"The majority of the underground mining equipment I've been associated with was made and manufactured by Caterpillar, Gravley said. "And that which wasn't manufactured by Caterpillar had Caterpillar engines in it."
The same goes for above-ground operations, with all those familiar vehicles working on building sites around the globe.
"Caterpillar, from my opinion, leads the way in all types of construction equipment," Gravley said.
JTED operates 14 independent campuses throughout Pima County and satellite locations at public high schools as far north as Mammoth – and as far south as Sahuarita.
Michael Bower said he learned about the new program from his Amphi High School auto-shop teacher, who had operated mining equipment. He said he wants to do more than just DRIVE trucks, though.
"I also want to be a mechanic on them," he said. "I want to learn how to work on them. This is a first step toward that."
With the national certifications students earn, they can start their career when they turn 18.
Bower said real-life experience on the giant equipment is important.
"This is the final step to see if it's really is where I want to go."