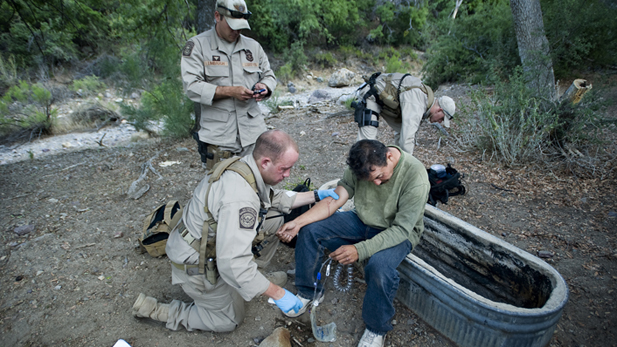 Border Patrol agents help an ailing migrant crosser.

PBS
Five migrants have been found dead in the Southern Arizona desert in the last two weeks from exposure to the heat, and that has led the Border Patrol to put its rescue unit on high alert.
With record high temperatures forecast for the next week, the the Yuma Sector's 10-member Border Patrol Search Trauma and Rescue Unit, known as BORSTAR, has been keeping an eye on desert beacons being activated by migrants in trouble.
"Our mission is to save lives, plain and simply," said John Adkisson, the Border Patrol Yuma Sector's BORSTAR commander. "We are all trained EMTs and paramedics."
When migrants are found in life-threatening situations in the desert in and around Yuma, BORSTAR gets the call. Agents head out with medical supplies on ATVs or even rappel from helicopters to get medical aid to migrants in distress.
"I think most people don't know that Border Patrol agents are out here in the remote deserts and remote regions of the border put their lives at risk on a daily basis," Adkisson said.
BORSTAR agents will detain those they rescue, their primary goal is to save lives, regardless of the victims' legal status, he said.