The U.S. Border Patrol has a new boss, and for the first time in the agency's 92 years, he comes from outside.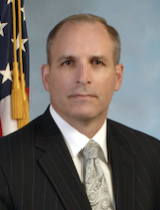 Mark Morgan, chief of U.S. Border Patrol. (PHOTO: US Border Patrol)
Mark Morgan, currently the assistant director in the training division of the FBI, was named Monday to head the largest law enforcement agency in the U.S.

Morgan will take command of more than 20,000 Border Patrol agents and support staff. He has served 20 years as an FBI agent.
In recent years, the Border Patrol has come under fire for human rights violations and deadly encounters with migrants. The appointment of Morgan is seen by some in the human rights community as a response to growing complaints.
One member of the Tucson Samaritans, a group that has provided water in the desert to migrants, said bringing in an outsider is a positive a step.
"Honestly I think its great if it's really going to help the situation," Samaritan member Katherine Ferguson said. "It sounds like a very hopeful step."
The union that represents border agents announced its disappointment with the selection. Union leaders wanted to see some at the helm who came up through the ranks.
"The Border Patrol has a unique mission that is reflected in its culture and we realize it will be difficult for an outsider to quickly gain the trust and respect of his subordinates," the National Border Patrol Council said in a statement on its website.
"We hope that Chief Morgan will quickly overcome this hurdle and develop a good working relationship with both the senior leadership and the rank and file of the U.S. Border Patrol. It can be done but it will depend upon the deeds of Chief Morgan, not his words."