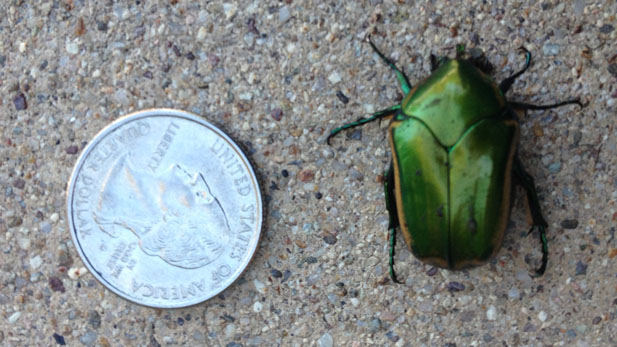 Although they may appear intimidating as they fly close to people, scientists say scarab beetles are harmless to humans.

Tony Paniagua, AZPM
Residents in southern Arizona and other parts of the Sonoran desert are noticing a colorful beetle that's attracting attention, captivating some people and scaring others, even though they are harmless to humans.
The scarab beetle, or figeater beetle, is one of thousands of insect species in our region, said Gene Hall, a University of Arizona scientist.
Hall is the collection manager for the University of Arizona Insect Collection and also works at the insect diagnostics clinic for the College of Agriculture and Life Sciences Cooperative Extension.
"There are quite a few out there that I see these days and it just goes like with other animals, there are fluctuations in populations. Last year we had large numbers of giant mesquite bugs that were out," Hall said.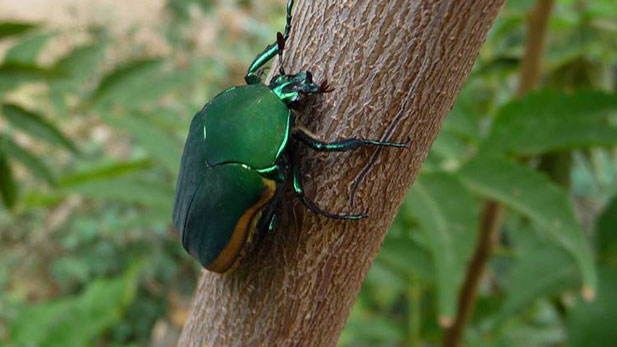 Scarab or figeater beetles are common during the Sonoran desert's hot summer months when they come out to eat and breed.

Gene Hall
The scarab beetles with the striking metallic color are breeding and feeding, and they're attracted to sweet fruit from native plants such as prickly pear or from imported species such as figs.
Hall said the bugs are conspicuous because they can be seen flying during the day, unlike many other insects which are usually nocturnal.
"They'll eventually lay eggs in the ground. The eggs will develop underground, they usually pick compost or some type of rich organic material," Hall said.
"The grubs live underground in that material and they'll eventually pupate in later winter to early spring and then emerge as adults during the summertime."
Many insects and other animals become especially active during the hot summer months and precipitation from the monsoon rains.