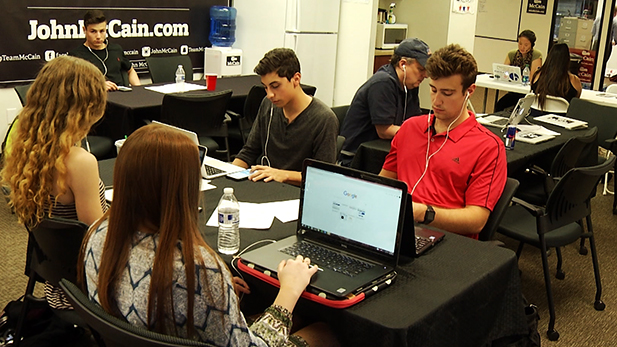 Volunteers make call as part of Unidos con McCain. "I have to prove to them that I am a senator for all of the Arizonans and their community is a most important part of it," John McCain said.

Mariana Dale, AZPM
Nine out of 10 registered Latino voters who responded to a poll said they planned on casting their ballots in November's general election.
Despite the unusually high numbers found by the poll, which was conducted by Democratic-leaning Latino Decisions and America's voice, pollster Gabe Sanchez said Latinos still feel left out of the political process.
"We still see a very large percentage of folks indicating nobody has even reached out to them yet."
Nearly 60 percent of those surveyed said no campaign has been in touch with them.
The results in Arizona mirror national numbers, both of which are defied by a history of low Latino-voter turnout.
But those votes could prove crucial come November, especially in the apparently close race for U.S. Senate, where candidate stances on immigration will likely be a factor.
The same poll shows incumbent Republican John McCain and Democratic challenger Ann Kirkpatrick with similar favorability ratings among Latino voters.
Sanchez said Donald Trump's campaign is pushing more Latinos toward voting booths.
"The majority of the Latino population across these key states is indicating that it is essentially to stop Trump."
While the push to block Trump may be a motivating factor in the Latino voting bloc, its effect on the Senate race may not be cut and dry.
McCain pushed immigration reform in 2013, and his Spanish-language website says he supports a path to citizenship for children brought to the U.S. illegally.
However, he also supports Trump.