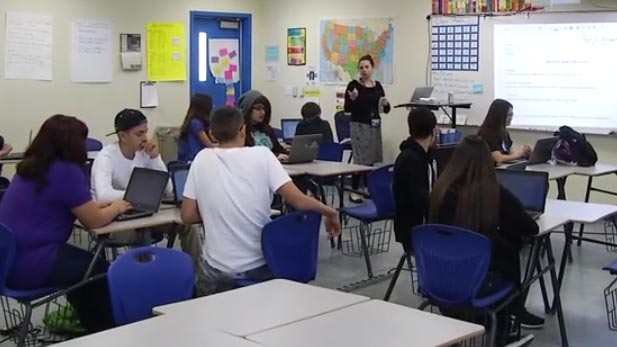 Freshman literature teacher Michelle Callahan-DuMont at Sunnyside High School.
By Michael Hernandez, AZPM Intern
Tucson's largest school district is still trying to fill more than 120 full-time teaching positions seven weeks into the school year.
Before school began Aug. 4, Tucson Unified School District had about 250 teaching positions to fill. Since then, that has cut in half.
"Historically the district has had a high number of vacancies, and so we've worked to decrease that number every year," said Janet Rico Uhrig, talent acquisition director for TUSD.
Rico Uhrig said the district is most in need of teachers in math, science, special education and kindergarten. TUSD is recruiting at every opportunity.
"You never know when we'll find a good teacher or someone who knows a teacher who's looking for a job, and so we're at local job fairs, we do out of state recruiting in addition to our local events and statewide events as well," she said.
The district has a pool of long-term substitute teachers it is using to fill the gaps.
Substitutes at TUSD are allowed to teach 120 days each academic year. The Arizona Department of Education recently approved a 180-day exception for the district, TUSD officials said.
Substitutes receive long-term pay after 15 consecutive days in a certified teaching position. At TUSD, that comes out to $107 a day.