Aedes aegypti mosquitoes carry diseases.

CDC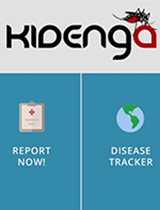 A screenshot of the Kidenga disease-tracking app.
Mosquitoes in Arizona have not transmitted the Zika virus. Despite that, the University of Arizona's college of public health has developed a smartphone application to help track insect-borne diseases.
The app is called Kidenga, and it's designed to let anyone collect data on Aedes aegypti, the mosquito that transmits the Zika, dengue and chikungunya viruses. That species of mosquito is plentiful in Arizona.
Researchers want people to help pinpoint outbreaks of viruses by reporting any disease symptoms and mosquito activity near their homes each week. Kacey Ernst, assistant professor of epidemiology, said not everyone who may be infected will seek treatment if their symptoms are mild.
She said the app could alert public health officials to areas where people may have been infected but whose condition wasn't reported to government agencies by a physician.
"One aspect of the app is to really try and enhance the early warning of the potential for transmission of these diseases circulating in our communities," she said.
Ernst says the disease-tracking app was in development before the expansion of Zika in the past year.
Initially, disease data is available on the Kidenga app by ZIP codes in Arizona, California, Florida and Texas. Other states will be added.