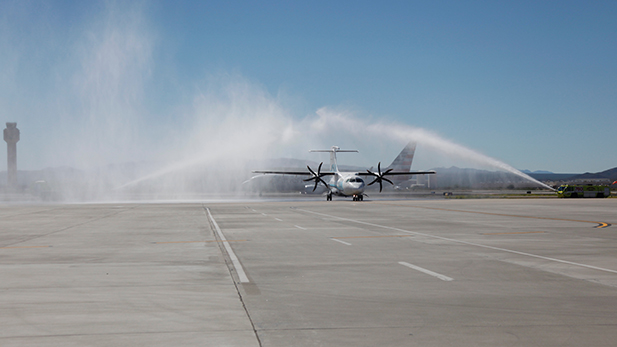 Airport Fire Crews spray an arc of water over the first AeroMar flight to land at Tucson International. The display is a common welcome ceremony the first time an airline lands at a new airport.

Zac Ziegler
AeroMart flight 106 landed at 12:53 p.m., 23 minutes after its scheduled arrival.
Sprays of water from Tucson International Airport fire crews greeted the plane, a traditional welcome for an airline's first landing at an airport.
The flight marked the first time in just shy of eight years that a commercial flight from Mexico touched down in Tucson. No airline has offered service out of Tucson to any destination in our southern neighbor since Oct. 11, 2008.
Twenty-five of the 48 seats on the plane were occupied. Thirty-six seats were sold for the plane's return to Mexico, which took off just before 3 p.m. Monday afternoon.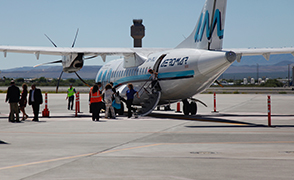 Passengers disembark from the first AeroMar plane to land in Tucson.

Zac Ziegler
There is hope that the flight will help bolster an economic connection with Mexico.
"Every year, people from Mexico enter Arizona 22 million times, and right now mostly they're driving here to our community," said Visit Tucson's Felipe Garcia. "This gives them the option to fly. So for medical tourism, for leisure tourism, it's going to be great."
But those who profit off tourism are not the only ones who can benefit from this flight.
"Manufacturing in Mexico is growing. And for businesses, it's very important to be able to connect in an effective way with Mexico," he said.
Barclay Goldsmith travels to Mexico frequently for work and was on the first flight to leave Tucson bound for Mexico.
"The price is pretty reasonable, especially compared to going through Phoenix," he said.
While his future trips may be for business, that is not the case for Goldsmith this time. He is meeting his wife in Mazatlán for a two-week vacation.