The "Horseshoe Fire," burning five miles west of the Arizona Town of Portal, continues to burn and is expected to take a few more weeks to contain.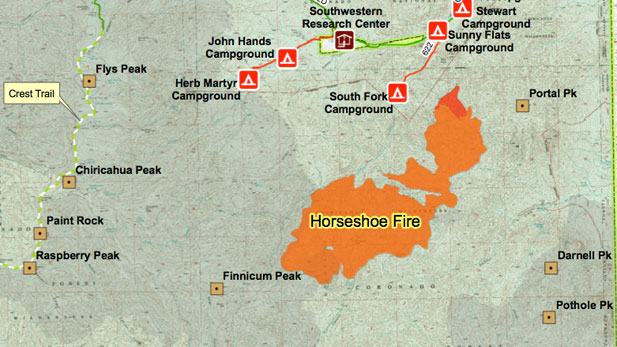 Jonena Hearst, GISS
As of Monday, the fire had burned more than 3,250 acres and is only 25 percent contained. More than 130 fire personnel are working to quell the flames, along with three helicopters, two engines and a water tender. So far, the fire has cost nearly $9 million to battle.
The Northern Rockies/Southwest Area Wildland Fire Management Team does not expect to have the fire contained until July 10.
Update 6/22/2010 10:33 a.m.:
The fire has grown to 3,400 acres and still is only 25 percent contained.
Horseshoe Fire Map

View at Google Docs
|

Download File