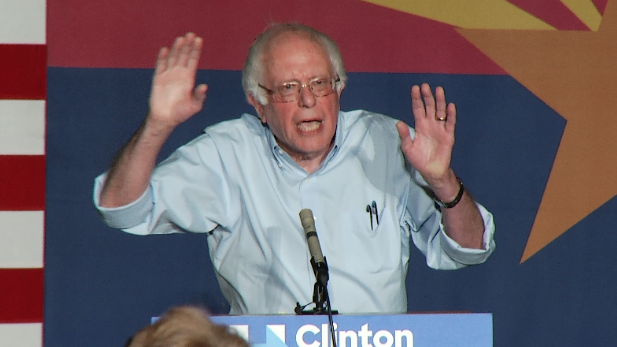 Bernie Sanders speaks for Democrat Hillary Clinton in Tucson Oct. 18, 2016.

Nate Huffman, AZPM
Former presidential candidate Bernie Sanders campaigned for Democrat Hillary Clinton in Tucson Tuesday, saying her views are "a thousand times better than" Republican Donald Trump's.
Sanders, who lost the Democratic presidential nomination to Clinton last summer, spoke on the University of Arizona Mall to more than 4,000 cheering supporters. The crowd-size estimate came from the Clinton campaign.
"On Nov. 8, our job is to defeat Trump and elect Hillary Clinton as president," Sanders said.
The Vermont senator was the first wave of a Clinton campaign blitz in Arizona this week after polls showed the traditionally Republican state is in play. Clinton's daughter Chelsea was scheduled to speak in Tempe Wednesday, and First Lady Michelle Obama is scheduled for a Phoenix appearance Thursday.
"Arizona is a battleground state," Sanders told the cheering Tucson crowd. "And you can make the difference in terms of who the next president of the United States will be."
He said one of the biggest crises facing the country is "the drift towards oligarchy" and that Clinton is committed to fighting it.
"Within the first 100 days of her administration, she would bring forth a constitutional amendment to overturn Citizens United," Sanders said, referring to the 2010 U.S. Supreme Court decision allowing corporations and unions to contribute to politicians.
In a 40-minute speech, Sanders also discussed the economy and the plight of the middle class.
"The issue facing this country is creating an economy that works for working families and the middle class and not just the wealthiest people in this country," he said.
"And on that issue, anyone who examines Trump's position with Secretary Clinton's position will see crystal clear that Secretary Clinton's views are a thousand times better than Mr. Trump's," Sanders said.
Sanders referred to past visits to Arizona and conversations he had with young people in Phoenix of fears their parents would be deported.
"We have got to take people out of the shadows," he said. "We have got to move toward a path toward citizenship. Secretary Clinton understands that."
Sanders said work for communities across the U.S. does not end with the election of a new president.
"Election Day is obviously important," he said. "But politics and struggle and the fight for justice is not just about Election Day. We've got to get to work the day after Election Day."
After the speech, Jose Montanez shouted Sanders' name as he and his friends walked away from the stage. He voted for Sanders in the primary election and said he will vote for Clinton in November.
"As a Bernie supporter, I recognize that he really wants me to vote for Hillary and he wants his supporters to vote for her in the sense that our votes will help defeat Trump," Montanez said. "So him kind of solidifying all the campaign promises that the Democratic Party will promise to us, him saying that tonight really kind of locked in my vote."
He said he likes Clinton because of her point of view on climate change, gay rights and women's rights.
Lydia Jennings supported Sanders in the primary election and decided to vote for Clinton before the rally. She said Sanders solidified her choice.
"I think Bernie Sanders is so charismatic and really stands for the values that are important to me: social justice, environmental justice and economic justice. And it was important for me to be here and see him," Jennings said. "I have some problems with Hillary's standings. She is not a perfect candidate."
She said she has not heard much from Clinton about Native American communities and issues.
Some Trump supporters were evident in the crowd by the signs they carried.
Listen to Sanders' speech here: