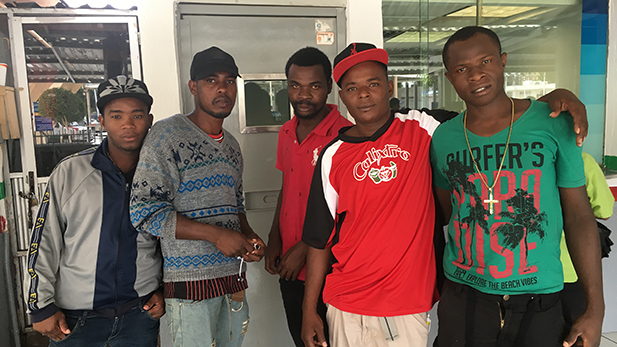 James Claude, center, Davidson Pachoute, to his right and their three travel companions wait inside Mexico's Nogales port of entry for a hearing with a U.S. Customs and Border Protection officer.

Michel Marizco, Fronteras Desk
Fronteras Desk
About a week ago, Davidson Pachoute and his companions arrived at the downtown Nogales, Mexico, port of entry. They set their scarce belongings against the wall, out of the way of the long line of mostly Mexicans crossing into the U.S., and sat down to await their chance to ask to cross in.
It's been a long hopscotch journey best described this way by Pachoute, who rattled off on both hands the number of countries he's crossed since August:
"Brazil, Argentina, Chile, Peru, Ecuador, Colombia, Panama, Costa Rica, Nicaragua, Guatemala, Honduras and here, Mexico."
Pachoute and these 70 other Haitians, all young men, say they started this 12-country journey in exodus from Haiti six years ago after the massive 2010 earthquake killed at least 100,000 people. They fled to Brazil to work.
A group of Haitian immigrants wait in Mexico's Nogales port of entry for an interview with a U.S. Customs and Border Protection official.

Michel Marizco, Fronteras Desk
"Nothing is easy in this world. You must work to get the money," said his companion, James Claude, who says he fled to Brazil from the Haitian capital Port-au-Prince that year.
"$6 to only get to work. Cannot feed your family $6, $7. For one day, $7? For one day."
Those $7 a day he was earning left him hungry for a better life and that, he says, is why he traveled an estimated 10,000 miles to sit against the white-tiled walls of the Nogales port of entry, less than 10 feet from the United States. It was mostly uneventful, he says; the group traveled by bus and walked except for Panama.
"Panama is a bad, bad, bad country. Bad country, yeah."
He was harassed in forests, accosted by police who stole from him, he said.
Mexico, on the other hand: "Mexico is good, very good. It's OK. It's OK for this moment. For this moment it's OK. Tomorrow I don't know."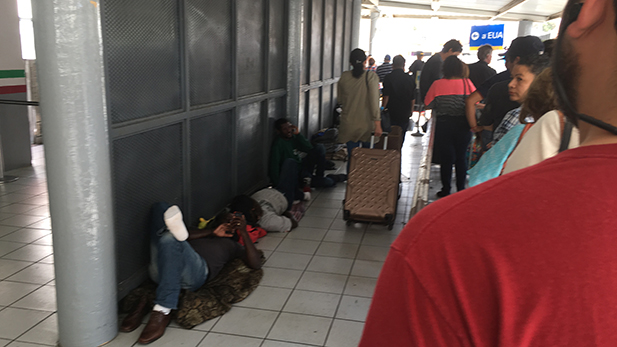 Haitian immigrants sleep in the SENTRI lane in Nogales, Mexico, awaiting an interview with a U.S. Customs and Border Protection official.

Michel Marizco, Fronteras Desk
Ultimately, Claude and many of his companions want to travel to Florida. His sister lives in Orlando. But first, they must pass through the metal turnstile leading into the U.S. port of entry, and right now, Customs and Border Protection is only taking a few of these newcomers in for interviews every day. It's growing issue at the U.S. southern border.
"The Haitian migrants, they have been arriving in Tijuana and Mexicali and just started arriving here this past Wednesday," said Father Sean Carroll, who runs a migrant shelter in Nogales, Mexico, called the Kino Border Initiative.
"We've been helping to bring them food. But what's been wonderful is to see how the local community of Nogales, Sonora, has been organizing itself to bring food to the Haitian migrants waiting their at the downtown port of entry," he said.
CBP officials declined to be interviewed but shared that the U.S. immigration policies for Haiti have ebbed and flowed as the country faced a sequence of natural disasters.
Immigration officials are taking each one on a case-by-case basis. Those without authorization to enter the U.S. legally are held in detention, ultimately for removal. How many of these young men will be deported remains to be seen. Two years ago, the U.S. extended a temporary protected status for Haitian refugees fleeing the ravages of the 2010 quake.
That extension ended just last September, meaning these young men missed the deadline by four weeks. Some could still seek asylum under threats of persecution, but the legitimacy of that claim is determined by an interviewing immigration officer.
In the meantime, the U.S. promised to speed up deportations of Haitian immigrants in the country who arrived after January 2011. But then Hurricane Matthew hit, so the U.S. again reversed course, suspending its deportation flights to Haiti.
Men like Claude and those who are with him could wait in a detention center in limbo until they are either deported or convince a CBP officer it's too dangerous to return home.