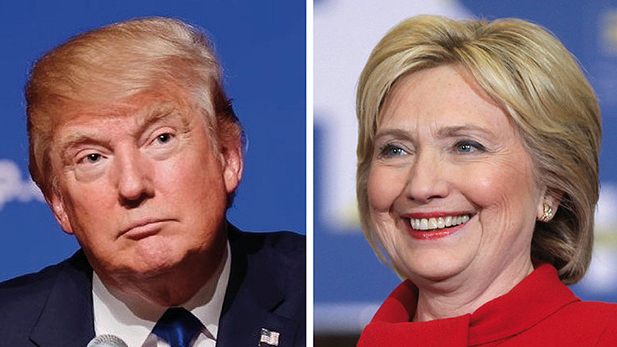 The presidential candidates are pulling out all the stops and flooding the state's airwaves for the final week of election season 2016.
But not everybody is impressed.
"The candidates suck so bad. None of the two appeal to me so much. It is just like choosing the best out of two evils, if that makes sense," said first-time voter Joquin Martinez.
And Martinez isn't alone. With just one week to go, polls show 5 percent or more of Arizona voters are still undecided.
Despite that, Election Day may be one for the record books, said Arizona Secretary of State Michele Reagan.

"They are very high numbers, certainly. We are very pleased with the registration increases – 188,000 thousand new voters since our last report," she said.
That brings the total number of active registered voters in the state to 3.6 million. As of mid-day on Monday, more than 1 million people had already cast early ballots, or about one-third of all active registered voters.
Those numbers aren't surprising, said U.S. Senate Democratic candidate Ann Kirkpatrick.
"I noticed in the last week that, in a lot of the groups I've been speaking to, over half the people have already voted. There is just a lot of excitement I have not seen before in Arizona," Kirkpatrick said.
Most polls are giving Republican presidential candidate Donald Trump the edge in the state, but the numbers are close enough that Democrat Hillary Clinton will be making an appearance in Phoenix on Wednesday for her second trip to the state. Her running mate, Tim Kaine, will visit Tucson and Phoenix on Thursday.
Trump made his seventh campaign appearance in the state with a visit to Phoenix over the weekend, where he implored voters from across the political spectrum to cast their ballots for him.
"We are asking for the votes of Republicans, Democrats, independents and first-time voters. And there is going to be a lot of them. With your vote we are just 10 days away from the change you have been waiting for your entire life."
Congresswoman Kirkpatrick and incumbent Republican John McCain are making their final moves in a key race for U.S. Senate with TV advertisements. See the videos below.
Community groups continue to try to mobilize young and Latino voters. While neither group has a big turnout traditionally, voters from these blocs have been registering in large numbers.
Surprises like that haven't mitigated rising suspicions of potential electoral issues, which have largely been fueled by Trump.
Jean Frakes, a supporter of the Republican candidate, said an investigation into the election is warranted simply if Trump loses.
"If Mr. Trump should lose then we really need to have a full investigation to make sure that it was a completely clean election."
But, according to Secretary of State Reagan, the results in the state will stand, regardless of the winner.
"The secretary of state's office tests every piece of ballot equipment in every county before every election. We've already been down to Pima County and you know they passed," Reagan said. "After the machines are certified they are sealed and they are put in a room on video cameras so that we can see a live feed of the machines at all times and so can the public."
A week remains until the day without campaign rallies, ads or phone calls. On that day, it will be up to voters.
Polls open at 6 a.m. and close at 7 p.m. on Tuesday, Nov. 8.
Kirkpatrick Ad
McCain Ad