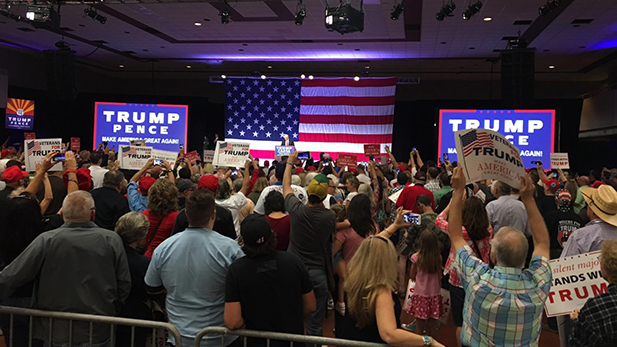 Gov. Mike Pence on the stage at the Mesa Convention Center.

Mariana Dale, KJZZ
Mariana Dale, KJZZ
MESA - Republican vice presidential candidate Mike Pence made his fourth stop in Arizona Wednesday morning.
"I truly do believe this election is about our security. It's about our prosperity. It's about the destiny of the Supreme Court," Pence told an audience of about 500 at the Mesa Convention Center.
Gov. Doug Ducey introduced Pence and touted his record as governor of Indiana.
"Mike knows that government does not create jobs, so he got out of the way and let the free market thrive," Ducey said.
It's likely many in the audience had already cast their vote, like more than 1 million Arizonans.
John Coulthard had, but was still in line before 8 a.m. to get a seat.
"I'm here because I want to do my utmost to get the person in the White House that can save the country from ruin, in my opinion," Coulthard said.
Coulthard, who carried a small notebook to take notes said he wanted to hear Pence address a plan for creating more full-time jobs for citizens and reining in illegal immigration.
He said Mike Pence added focus to the GOP ticket.
"He gives more of the impression of being presidential actually than Donald Trump does."