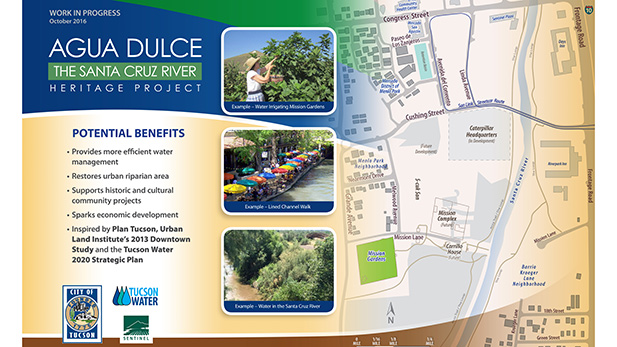 Courtesy of Tucson Water
Water stopped flowing regularly in the Santa Cruz River on Tucson's west side decades ago. That could soon change under Tucson Water plan, which would restore a portion of the river's flow using treated reclaimed water.
Tim Thomure, director of Tucson Water, said the "Agua Dulce" project would bring multiple community benefits, from re-establishing the riparian habitat that disappeared when the river dried up to driving economic development in the area.
"The impacts are going to be immeasurable on the community broadly and the downtown specifically," said Thomure.
He said the required investment would be minimal because most of the infrastructure is already in place. What is required is community buy-in.
Thomure said residents need not worry about the fact that the plan would use treated wastewater.
"We've been doing reclaimed water in the Tucson area since the mid-1980s, and this quality of water is already discharged in the Santa Cruz River, it's just downstream of the community"
He said it is high-quality water that is safe for public health, adding that it will filter downward to recharge underground aquifers.
If all goes according to Tucson Water's plan, the Santa Cruz could be flowing again in the next two years.