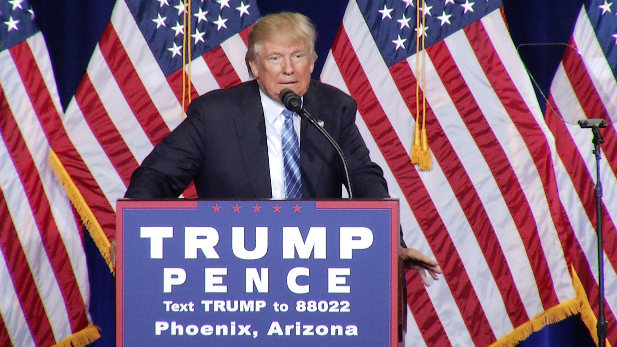 Then-Republican presidential candidate Donald Trump, Aug. 31, 2016.

Steve Riggs, AZPM
Donald Trump, John McCain and Martha McSally kept Arizona a red state in Tuesday's election, while Democrats managed to hold onto four seats in the state's congressional delegation.
President-elect Trump took Arizona's 11 electoral votes by a relatively narrow margin over Democrat Hillary Clinton. Trump had 49.65 percent of the votes to 45.35 percent for Clinton and 3.8 percent for Libertarian Gary Johnson. With votes still being counted, Trump should exceed 1 million votes in the state. He was at 939,309 to Clinton's 861,702.
The presidential candidate visited Arizona seven times during the primary and general election campaigns and sent Vice President-Elect Mike Pence to the state twice. In doing so, they leveraged Arizona's Republican voter registration plurality.
Republican incumbent Sen. John McCain did the same, easily winning a sixth term over Democratic Congresswoman Ann Kirkpatrick. The 80-year-old senator said he was humbled to win re-election.
"Let me begin by saying thank you to my employers, the people of Arizona," McCain said at a Phoenix election night rally. "Those of you who voted for me and those who voted for my opponent. I have never been more honored by anything than the privilege of representing you in the United States Senate. I've never taken it for granted. I never will. I am as grateful to you.
McCain beat Kirkpatrick by 12 points and was right at 1 million votes. Kirkpatrick conceded the race mid-evening Tuesday, issuing a statement thanking her supporters.
Arizona's congressional delegation looks the same, by number, at least. Five Republicans and four Democrats hold the seats.
In Southern Arizona's 2nd Congressional District, Republican incumbent Martha McSally won a second term, easily outdistancing Democrat Matt Heinz, a former state legislator. McSally had nearly 56.8 percent of the vote to 43.3 percent for Heinz.
"Democrats, independents, Republicans voted for me in a pretty strong way, and I'm very honored and grateful for that," McSally said. "And it shows that they've seen that I'm working hard and trying to find where there is common ground to make a difference and trying to do that for everybody."
Heinz, a physician, said that after a rancorous political season, it is time to bring people together.
"This election has taught us a lot about we really need to work on healing divisions," he said. "And that is something I am particularly interested in doing not only in a legislative way as a politician but it is something I've dedicated my life to."
The race was a relative breeze for McSally compared with the last two campaigns. In 2012, she lost to Ron Barber by less than 1 percentage point, and in 2014, she beat Barber by 167 votes after a recount.
Pima County Republican Party Chairman Bill Beard said the party's ground game made the difference.
"Yeah, we're outnumbered in the county, Ds to Rs," Beard said. "But at the end of the day, it's not about your numbers in voter registration, but how many of them actually show up. And it looks like in this year's election we did a pretty good job getting our side out.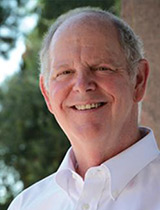 Tom O'Halleran
Pima County Democratic Party Chairwoman Jo Holt said there was some light for her party in what is usually a pretty dark outcome.
"What we are more accustomed to in Arizona is not mixed results," Holt said. "We are more accustomed to failures across the board type of thing."
Her reference was to Arizona's 1st Congressional District, where Democrat Tom O'Halleran easily defeated Republican Paul Babeu. O'Halleran, a former legislator from Flagstaff, had 51.3 percent of the votes to 43.0 for Babeu, the Pinal County sheriff.
The district includes the Tucson metro area's northernmost suburbs.
In Southern Arizona's other congressional race, in the 3rd District, incumbent Democrat Raúl Grijalva won an eighth term with no ballot opposition.