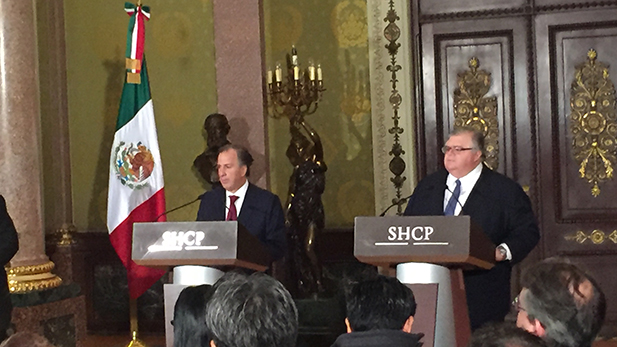 Mexican treasury secretary José Antonio Meade, left, and Agustín Carstens, governor of the Central Bank of Mexico, offered a press conference on Wednesday, Nov. 9 at Palacio Nacional, the executive's main office in Mexico City, to detail their plan to fight market uncertainty after the U.S. elections.

Rodrigo Cervantes, KJZZ
MEXICO CITY — Immediately following the elections, the government of Mexico set itself to keeping the economy running and bolstering its commercial relationship with the United States.
Mexico is Arizona's number one commercial partner and the third-largest commercial partner for the U.S.
The morning after Donald Trump was announced president-elect, uncertainty hit the Mexican stock market and the peso. While Mexico's stock market (La Bolsa Mexicana de Valores) opened with a loss of 2.02 percent, the Mexican currency reached its lowest price against the American coin: $20.35 pesos per dollar.
The Mexican government immediately reacted to avoid more speculation and damages to the economy. At 7 a.m., right before the markets opened, Mexican Treasury Secretary José Antonio Meade and Agustín Carstens, governor of the Central Bank of Mexico, offered a press conference to ease post-election anxiety.
"The result of the U.S. elections will not have a direct impact in commercial and financial regulations," Meade said.
"Mexico has enough strength to face changes in the environment," he said, explaining that the financial strategies from the federal government, as well as the recently implemented reforms, will keep the Mexican economy strong, the inflation low and trade flowing.
Meanwhile, President Enrique Peña Nieto congratulated the people of the U.S. for the elections via Twitter. He suggested collaboration with the American president-elect in developing the region.
"Mexico and the U.S.A. are friends, partners and allies that must continue their collaboration for competitiveness and development of the North American region," reads one of Peña Nieto's tweets.
And while the future of trade agreements with the U.S. remain uncertain with Trump as president — particularly since he campaigned on a promise to revise NAFTA — members of the Mexican Senate are pushing for a quick approval of the Trans-Pacific Partnership Agreement, which would lessen Mexico's dependency on the American market.

On the other hand, American Ambassador to Mexico Roberta Jacobson made a public statement with hopes for a stronger relationship between both nations under the new administration.
"Change can sometimes generate anxiety, but like I have said in numerous times, I have confidence that our relationship has strong roots in our shared values and interests," Jacobson's wrote.