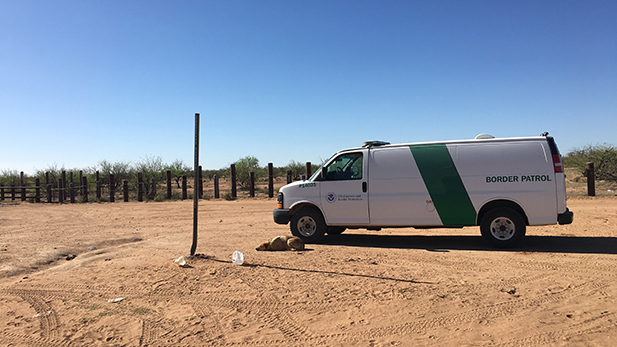 A lone Border Patrol agent watches over the San Miguel Gate.

Michel Marizco, Fronteras Desk
The Border Patrol reported a sharp increase last month in apprehensions of people crossing the U.S.-Mexican border illegally.
Officials at Homeland Security said the increase was likely tied to the presidential election.

The number detained was up nearly 18 percent in one month, to 46,000. In addition, many more unaccompanied children and families were taken into custody.
Church officials who provide aid to immigrants have said many crossed the border before the election. Many immigrants feared a Donald Trump victory could make it more difficult, said John Fife from Southside Presbyterian Church in Tucson.
U.S. Customs and Border Protection has increased staff and checked to ensure unaccompanied minors are adequately cared for.
In a press release, Homeland Security Secretary Jeh Johnson said those who come across illegally will be sent back.
The release said he was working with officials from Central America to establish a referral system that could classify those who qualify for refugee protection in the U.S.